Victorian House Styles and Examples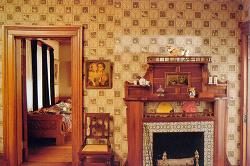 Victorian houses are architecturally commonly referred to as the Victorian Style but this "style" is really a period in history. The Victorian era roughly corresponds to the time when Queen Victoria ruled Britain (1837 to 1901). During this time, industrialization brought many innovations in architecture. There is a wide variety of Victorian styles, each with its own distinctive features.
Types of Victorian Styles Include: Second Empire, Queen Anne, Stick, Shingle, and Richardsonian Romanesque.
How to Spot a Victorian
Steeply pitched roof of irregular shape, usually with dominant front-facing gable
Textured shingles (and/or other devices) to avoid smooth-walled appearance
Partial or full-width asymmetrical porch, usually one story high and extended along one or both side walls
Asymmetrical facade
Victorian House Links.
Mark Twain House
Old Louisville Guide
Victorian Home Walk
Victorian Homes Magazine
The Victorian Preservation Association of Santa Clara Valley
The Victorian Society In America