The Bungalow: Variations and Examples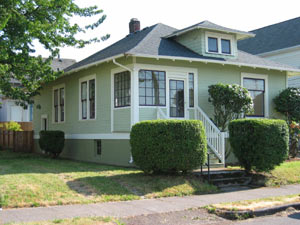 The Bungalow house style of architecture is a single family house type whose popularity grew in the western United States at the turn-of-the-century. Bungalows offered low cost, simple living quarters with an artistic touch to many Americans getting by on modest means.
With its special features- style, convenience, simplicity, sound construction, and excellent plumbing- the bungalow filled more than the need for shelter. It provided fulfillment of the American dream.
Types of Bungalow Styles include: California, Arts & Crafts (Craftsman), Mission, Tudor, Prairie, Pueblo, Chicago, Cape Cod, and Moderne.
How to Spot a Bungalow
Overall architecture has a low profile with prominent horizontal accents
Usually no more than one and one-half stories
Specific Bungalow Examples.
Bungalow Links.
Bungalow Heaven
Historic Chicago Bungalow Association
Mission Studio