River Valley Realty LLC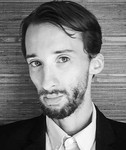 Matthew Jacobs
Realtor & Historic Property Specialist
Matthew has always been enchanted by real estate, its role in our lives, and by the private & public histories that it tells. His interest in property dates to his childhood in the Princeton area. As a young boy, favorite pastimes included attending various open houses around the region, and religiously reading The New York Times' Real Estate section at each weekend.

A great enthusiast of historic properties, he fastidiously studies the many historic architectural styles that appear throughout our area & thoroughly enjoys digging into the details and stories behind particular homes from days gone by. He applies this knowledge & passion when working with buyers or sellers of historic houses; helping them date a home or its details, identifying architectural style, or combing through public records & other documents to discover its provenance.

An honors graduate from New York City's New School University, where he concentrated in Media & Cultural Studies, Matthew has extensive professional experience working in the fields of public relations and marketing. Matthew applies the strategic branding, publicity & digital communications skills that he honed during his years working with the world's top fashion talent to eagerly helping his clients through the process of buying or selling a home.

Whether conducting the most rigorous and specific of property searches to insure you find the true home of your dreams, or implementing a results minded marketing plan to sell your property for its highest possible value, Matthew is thoroughly devoted to the needs and concerns of his clients. He believes that part of his role as a real estate agent is to help alleviate the anxiety that can often be a part of the property transaction process, and takes pride in ensuring his clients that they are in attentive & capable hands.

A lover of history, Matthew takes great inspiration from exploring the outstanding cultural heritage of the Delaware River Valley region, and from the many historical sites throughout Hunterdon & Mercer counties. As a member of the Lambertville Historical Society, he serves as the organization's Publicity Chair and on its Program Committee.

45 N Main Street
Lambertville, NJ 08530