Dielmann Sotheby's International Realty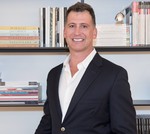 Ted Wight
Broker Salesperson
Licensed REALTOR®
Specializing in Architecturally Significant Properties
Ted grew up in St. Louis and loves all of our unique neighborhoods. Having sold homes in the West County area and St. Louis City for over 9 years, Ted is able to help Buyers find the ideal home that is a good investment. In addition, Ted's 20 years of marketing experience gives him the edge to help Sellers move their homes quickly.

Over the years Ted has developed a niche of specializing in architecturally important houses ranging from mansions built by Barnett, Haynes and Barnett to more modern homes designed by the noted Harris Armstrong and William Bernoudy.

Ted shares a farm in Pike County, Missouri with his family. The historic Griffin McCune House (Circa 1850's) is on the property and has been renovated and maintained by Ted.

Ted is a graduate of Washington University's Olin School of Business.

Just speak with some of Ted's clients and you will know that you are in capable and knowledgeable hands.

8301 Maryland Ave., Ste 100
Clayton, MO 63105