FC TUCKER EMGE REALTORS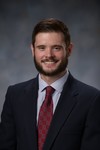 Lucas A. Neuffer
Broker / Realtor
Helping you list your present and buy your future.
I am a licensed real estate agent working out of Evansville, IN and I also have a Bachelor's degree in History. I have always held a passion for preservation and acquisition of historic homes and through real estate I am able to achieve these goals for myself and those around me.

I am happy to assist anyone in the selling, buying, and viewing of homes - historical or non-historical. I am simply more adept in the architecture, building processes, and significance of pre-1920 residences but have considerable knowledge in new construction as well.

If you are curious of the valuation of your current home, or would like a price comparison on a home you are considering to purchase, I will provide these services for free.

You can reach my office at 812-426-9020, or my personal phone at 812-306-4709.
130 Main St
Evansville, IN 47708