From The Archives
Rentable Venue
Open To The Public
c. 1900 Chateauesque
225 Greenwood St.
Evanston , Illinois 60201
Charles Gates Dawes House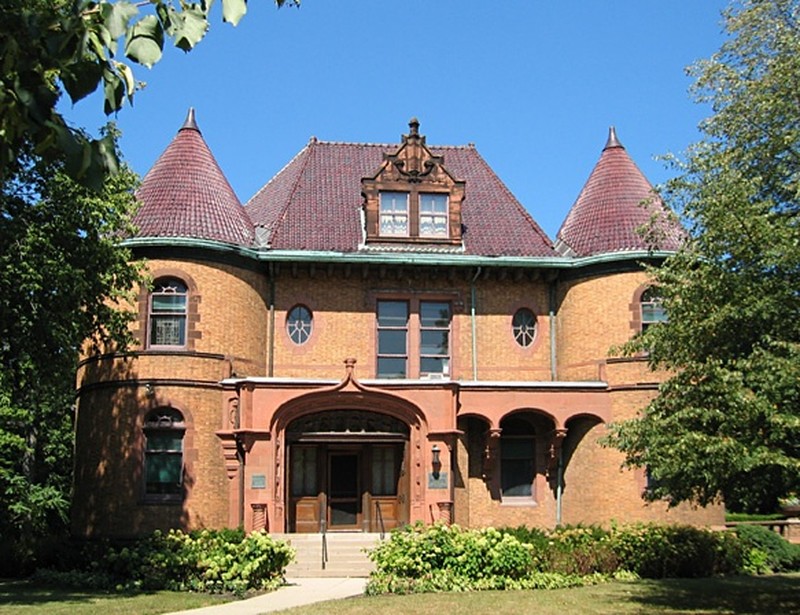 Historic home owned by Charles Gates Dawes, Vice President under Calvin Coolidge.
History is alive at the Dawes House. Each year, thousands come to explore the questions history provokes, feel the excitement of discovery, and experience the thrill of examining artifacts and reading directly from original documents.
Scroll down for more information
Like This Listing?
Contact Information:
The Evanston History Center is located off of Forest Avenue on Greenwood Street in Evanston, Illinois:
225 Greenwood Street, Evanston, IL 60201

Telephone: (847) 475-3410 Fax: (847) 475-3599
Phone: (847) 475-3410
Fax: Fax: (847) 475-3599
Tell 'em you saw it on OldHouses.com!
from the Evanston website
"The Dawes House was built in 1894-5 on a two-acre lakefront site. Designed in the French chateaux style by architect Henry Edwards-Ficken of New York, the three-and-a- half story mansion has twenty-five rooms, six bedrooms, seven bathrooms and eleven fireplaces. In a report prepared by the American Association for State and Local History, researchers gave the following physical description of the hip-roofed brick mansion:
"The Dawes House is constructed of varicolored orange and tan brick laid in Flemish bond comprised essentially of three hipped sections, with the roof of a small rear wing also hipped. Round, two-story towers rise at the front corners of the house, topped with conical roofs with small spires. Along each room's edge is a dark painted wooden box cornice and plain frieze with ornamental support brackets."

Other architectural details include irregular fenestration with an abundance of window openings enhanced by either stone lintels or surrounded by cut-stone quoins. The prominent front entrance is part of a one-story sandstone loggia type structure that fills the space between the two towers. An ornamental arch spans four folding wooden doors topped by a transom.

The interior of the Dawes House incorporates several design elements in its plan, including a Louis XVI-style parlor, and a library, greathall and dining room incorporating elements of English Renaissance Revival styles (Tudor and Jacobean elements are present.) Much of the interior is paneled in oak, with the exception of mahogany-finished cherry wood in the library. Other highlights include ornamental plaster work on cornices and ceilings, marble mantel pieces, a massive open balustered oak stairway in the great hall and a musicians' gallery in the dining room.

The Dawes House was designated a national Historic Landmark in 1976."



Comments & Feedback