From The Archives
Operating Bed and Breakfast
Rentable Venue
1910 Historical Miners' Boarding House
Copper Miners' Rest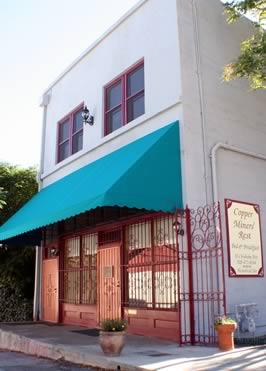 The Copper Miners' Rest is so named for the men and women who worked and raised families amid the area industry, Copper Mining.
Scroll down for more information
Like This Listing?
Contact Information
Phone: 928-473-8144
wdbarcon@msn.com
Tell 'em you saw it on OldHouses.com!
Read More
Originally built as a two-story frame construction by Matti Soderman in 1910, it was converted / rebuilt into a concrete structure between 1917 and 1921. The main floor was the Wasa Bar - named for the Soderman's home region of Finland. The upstairs was a rooming house named Eva's Rooms (Mrs. Soderman) that was designated for Scandinavian miners working in the nearby copper mine. A Finish Sauna was opened on the property for public use from 1910 until the 1950's. During the prohibition, the original bar was removed and a hidden basement was constructed to serve as a small speakeasy. The main floor served many other functions: including a mercantile, a land office and a post office. The two-story concrete house behind was built around 1910 - 1914 and was the Soderman's living quarters. Their two sons slept on the screened-in summer sleeping porch year round. The Sodermans sold the property in the early 1970's.

The building remained virtually untouched until Ms. Hayward bought it in 1996. In 1997 Ms. Hayward opened Delvan's Drawing Room, a unique Bed and Fix your own D#%&! Breakfast, an old Miners' style boarding house decorated with many local antiques acquired through networking with local building owners. In 2000, the building was added to the National Register of Historic Places. Owing to health reasons, in 2005 Ms. Hayward closed the Bed and Fix your own D#%&! Breakfast business and posted a "For Sale" sign on the door.

The property sold in July 2006. Winona Dale Barcón and Keith J. Droste are the fourth and current property owners, who reopened the "Bed and Fix your own D#%! Breakfast" establishment after finding that the 1910 building (a historical miners' boardinghouse) had 'Good Bones' and is a great foundation for making improvements on the already beautifully restored historical building. Enjoy this historic bed and breakfast while visiting the Miami, AZ area.
Archived in October, 2010
Comments & Feedback