From The Archives
Operating Bed and Breakfast
Rentable Venue
1892 Victorian: Queen Anne
Singleton House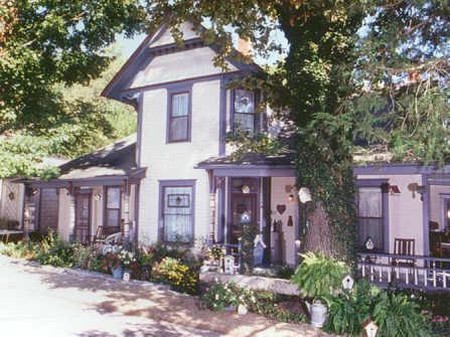 11 Singleton House is an old-fashioned place with a touch of whimsy, now celebrating 30+ seasons. Sheltering a multi award winning American in Bloom garden on a hillside in the heart of Eureka's Historic District.
Scroll down for more information
Like This Listing?
Contact Information
11 Singleton House
Bed and Breakfast
11 Singleton St.
In the Historic District
Eureka Springs, Arkansas
Phone: 800-833-3394
info@singletonhouse.com
Tell 'em you saw it on OldHouses.com!
History of 9 & 11 Singleton St.
Singleton Street is the only street in Eureka still retaining only original Victorian houses. 11 Singleton, built in the 1890's, is Queen Anne Victorian in style. By 1892 a city fire map showed the foundation at 11 Singleton St. (the two story part with the right wing by the wraparound porch) and by 1905 the left side was added on as an apartment and was showing up on a map. It appears that the Kennedy's had renters early on.

It's neighboring house 9 Singleton was showing on city maps by 1905. Both buildings were built by the Kennedy family, mostly by Fred Kennedy who was a carpenter according to the census.

Fred C. Kennedy was born ca. 1860 in New York & died January 23, 1914 at 54 in Eureka Springs. He married on May 14,1902 his first wife, Pearl Ingle who was born in Indiana and died Aug. 9, 1910 at 28 in Eureka. He remarried June 9, 1910 Mary Riley born in 1855 and after Fred passed she must have remarried because she died Mary Riley Kelley Jan. 12, 1933 at 78 in Eureka Springs. Fred and both wives are buried next to each other in the Odd Fellows Cemetery here.
Marriage records:
Western District Carroll County
book/page groom age bride age marriage date
W 3 189 KENNEDY F C 40 INGLE PEARL 21 5/14/1902
W 4 316 KENNEDY F C 49 RILEY MARY 45 6/09/1910
Fred's brother, George B. Kennedy, was born in Illinois ca. 1868 and died August 10, 1931 at 63 in Eureka Springs. He is also buried in the same cemetery. George was a "Woodman of the World" and played trombone in many of the local bands. George was a barber by trade. George was married to Bertha who played the piano. She died Jan. 26, 1958 and is buried in Eureka next to her husband. George and Bertha's son, Ivor George Kennedy, was born October 6, 1891 in Sheridan, Illinois.

On the 1900 census, George and Bertha Kennedy, with son, George, lived in Earl, La Salle Co, IL. Bertha's parents were both born in Germany.

A roster for the Missouri National Guard on the Border at Ancestry.com. The whole several hundred-page book is online. The entry for George I.(Ivor) Kennedy reads: Private, Headquarters Company, 2d Missouri Infantry, June 27, 1916. Mexican Border Service. Private Headquarters Company, Missouri Infantry, June 28, 1916. Second Class Musician September 1, 1916. First Class Musician December 28, 1916. Mustered out January 13, 1917. Links to Ancestry .com for George Ivor Kennedy, George and Bertha's son

Now the really interesting part. The previous service listed on his registration form translates as 8 months with the Missouri National Guard, 2d Infantry Regiment of the US National Guard on the border. The National Guard was called up to guard the US border with Mexico in 1916 following Pancho Villa's raid on Columbus NM. The 2d Mo Infantry served in the area of Laredo Texas. Musician First Class is a rank indicating he was a good musician.

According to Ancestry.Com...
On 5 June 1917, George Ivor Kennedy of 36 1/2 Spring Rd, Eureka Springs, Ark, registered for the WW1 draft. He listed that he was born October 6 1891 in Sheridan, Illinois, was a musician employed by the Commercial Club (now the Chamber of Commerce) in Eureka Springs and that he had previous military service as a Musician First Class serving "8 months with Missouri 2 Rgt NG US on the border. He was described as of medium height and build, with blue eyes, light hair and not bald.

When he returned from WWI Ivor moved to Pawhuska Oklahoma. On the 1920 census, a George I. Kennedy of the right age, born in Illinois, was living with his parents-in-law and his wife, Mary, in Pawhuska, Osage Co, Oklahoma; his occupation was a cabinetmaker and Ivor had a millwork shop called KING and KENNEDY (Jas R King, George I Kennedy)...Planning Mill, Sash, Doors and Blinds (1925 phone book).

On the 1920 census, there is also a listing for KENNEDY GEORGE I (Mary; King Kennedy), r806 Leahy

On the 1930 census, there is still a George I. Kennedy in Oklahoma, but now married to a woman named Helen. He was still a cabinetmaker.

In his later years he moved to Rt 1 East 19th St., Stillwater Oklahoma. Ivor never made it to his plot in Eureka's cemetery that he had paid on for years.
Archived in December, 2015
Comments & Feedback