Resource Navigator
Preservation Orgs.
Find Historic Homes for Sale
Selling An Old House?
Your Feedback
Mailing List
Historic Preservation Organizations
We're building an extensive database of historic preservation resources. Want the old house community to know about your old-house business, service or organization? Submit Your Resource to OldHouses.com
National Organizations · Local Organizations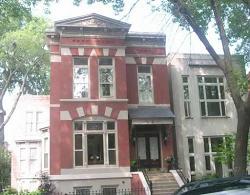 The National Trust for Historic Preservation provides leadership, education and advocacy to save America's diverse historic places and revitalize our communities. Chartered by Congress in 1949, this is a nonprofit organization with 200,000 members. The site features exciting historic travel destinations, old house fix-up tips, news, shopping ideas, and much more.
The Advisory Council on Historic Preservation is an independent Federal agency that promotes the preservation, enhancement, and productive use of our Nation's historic resources and advises the President and Congress on national historic preservation policy.
The History Channel ® created the Save Our History initiative to support local history education and historic preservation in communities across the country. The initiative includes the Save Our History Grant Program which funds partnerships between local history organizations and schools on community preservation projects, free educational resources for elementary, middle, and high school teachers interested in making local history and preservation a component of their curriculum, and cash prizes and scholarships for teachers and students who demonstrate an exceptional commitment to local history education and preservation.
National Organizations
Heritage Preservation - For over a quarter century, Heritage Preservation has been working to ensure the preservation of America's collections for present and future generations. We are the nation's leading nonprofit advocate for the proper care of all our cultural heritage: works of art, books and archives, documents and photographs, architecture, monuments, natural science specimens, and family heirlooms.
Historic New England – Historic New England is a 100 year old preservation organization preserving New England history, artifacts, homes, landscapes and stories.
National Alliance of Preservation Commissions - The NAPC is the only organization devoted solely to representing the nation's preservation design review commissions. NAPC provides technical support and manages an information network to help local commissions accomplishing their preservation objectives. The Alliance also serves as an advocate at federal, state and local levels of government to promote policies and programs that support preservation commission efforts.
National Register of Historic Places - The National Register of Historic Places is the Nation's official list of cultural resources worthy of preservation. Authorized under the National Historic Preservation Act of 1966, the National Register is part of a national program to coordinate and support public and private efforts to identify, evaluate, and protect our historic and archeological resources. Properties listed in the Register include districts, sites, buildings, structures, and objects that are significant in American history, architecture, archeology, engineering, and culture. The National Register is administered by the National Park Service, which is part of the U.S. Department of the Interior.
Preservation Trades Network - PTN was conceived in 1995 at an Association for Preservation Technology (APT) conference roundtable strategy session in Washington, DC. At the time, representatives of the preservation trades felt it important for the preservation trades to be recognized as a valued member of preservation project teams. To do this, the preservation trades took action to build a community of like-minded individuals who share knowledge of the process of historic preservation as it occurs in the field. PTN was formed to provide a focus on and support of the sharing of the preservation trade's knowledge of the physical process of preservation, of how to shape and work historic materials. From this beginning PTN became a Task Force of APT.
Preserve and Protect - A not-for-profit corporation providing space on the World Wide Web for Historic Preservation and Environmental Protection Organizations.
PreserveNet - PreserveNet is designed to provide preservationists with a comprehensive database of regularly updated internet resources and current professional opportunities. Established in 1994 by Cornell University's Michael Tomlan and Bob Pick, PreserveNet was the result of a collaborative effort by preservation students of various universities interested in providing preservation information in what was then a new and exciting arena, the internet. Updated and expanded in 2001, PreserveNet continues to utilize the many internet resources of various preservation organizations and maintains a current listing of professional and educational opportunities.
Society for North American Homes - An association of owners and prospective owners of historic (old) American homes. Our mission is to advocate for sound stewardship of these properties and to encourage ownership in them.
Traditional Building Skills Institute - The Traditional Building Skills Institute offers workshops to architects, builders, contractors, trades people, students, educators and homeowners to further the art of traditional building skills for the purpose of restoring and preserving historic properties. A one-year course of study leads to a certificate in historic preservation and restoration technology; a two-year course to an Associate of Applied Science or an Associate of Science in Building Construction and Construction Management.
The Victorian Society In America - The Victorian Society In America is the only national non-profit organization committed to historic preservation, protection, understanding, education, and enjoyment of our nineteenth century heritage.
Local Organizations
Alabama

Alaska

Division of Parks, Office of History and Archeology

Arizona

Arkansas

Arkansas Historic Preservation Program

California

Alameda Architectural Preservation Society - The AAPS is dedicated to preserving the architectural history in the city of Alameda, California.

Office of Historic Preservation - Department Of Parks and Recreation

The Old Escondido Historic District - From tiny bungalows to magnificent Victorian homes, the Old Escondido Historic District contains the majority of Escondido's historic resources. It is a wonderful place to walk or tour by car.

Save Our Heritage - Save Our Heritage Organization, SOHO, is a private, member-based 501c3 non-profit organization, formed in 1969 to save a single home, the 1887 Sherman Gilbert House. This small group of concerned citizens has become the third largest group of its kind in California, with thousands of members and subscribers, hundreds of volunteers, and an administrative, museum and retail staff of over 30. SOHO is based in Old Town San Diego, the birthplace of California. We manage and operate historic sites and resources throughout San Diego County. We are the only countywide historic preservation organization, in a county that encompasses 18 incorporated cities and numerous neighborhoods and communities. SOHO works on a wide range of preservation issues throughout San Diego County. All our advocacy efforts share a common goal: to protect and preserve the historic architectural and cultural resources of our region

Colorado

Connecticut

Connecticut Historical Commission

Connecticut Trust for Historic Preservation - The Connecticut Trust for Historic Preservation is nonprofit statewide membership organization established in 1975. Working with local preservation groups and individuals as well as with statewide organizations, it encourages, advocates and facilitates historic preservation throughout Connecticut.

Delaware

Delaware State Historic Preservation Office

District of Columbia

State Historic Preservation Office

Florida

Riverside Avondale Preservation - Riverside Avondale Preservation Inc. (RAP) is a private, non-profit membership organization whose mission is to enhance and preserve the architecture, history, cultural heritage and economic viability of the historic neighborhoods of Riverside and Avondale in Jacksonville, FL. RAP encourages community participation, promotes preservation education, and sponsors events that highlight the history, architecture and cultural vibrancy of the district.

Georgia

State Historic Preservation Office - Historic Preservation Division

The Georgia Trust - The Georgia Trust for Historic Preservation promotes an appreciation of Georgia's diverse historic resources and provides for their protection and use to reclaim, restore and revitalize the state's historic places and communities.

Hawaii

Department Of Land and Natural Resources

Idaho

Idaho State Historical Society

Illinois

Illinois Historic Preservation Agency

Landmarks Preservation Council of Illinois

Historic Chicago Bungalow Association - The Historic Chicago Bungalow Association and the City of Chicago provides the resources necessary to ensure that the city's approximately 80,000 Chicago bungalows remain a housing choice for families through the Historic Chicago Bungalow Initiative.

Quincy Preserves - The mission of Quincy Preserves, Inc., is to foster awareness of and to promote appreciation of the historic architecture of Quincy, Illinois, and Adams County and to encourage active membership involvement in the recognizing, protecting, maintaining, and displaying of these structures.

Iowa

State Historical Society of Iowa

Kansas

Kansas Preservation Alliance, Inc. - The Kansas Preservation Alliance is the state-wide not-for-profit advocacy organization for historic preservation. KPA is dedicated to supporting the preservation of Kansas' heritage through education, advocacy, cooperating with like-minded individuals or groups, and participation of historic structures and places.

Kansas State Historical Society

Kansas City Bungalow Club - The Kansas City Bungalow Club is an advocacy, educational and social organization dedicated to promoting the restoration and preservation of all types of bungalows in the Kansas City area.

Lawrence Preservation Alliance - The mission of Lawrence Preservation Alliance is to preserve historically significant buildings and natural environments, and to educate the community about the benefits of historic preservation.

Kentucky

Historic Homes Foundation, Inc. - A non-profit corporation chartered in 1957 for the purpose of purchasing, preserving and displaying historic buildings and their collections, as well as for furthering the advancement of education, culture and the arts in Kentucky. Three historic houses: Farmington, the Thomas Edison House and Whitehall, are presently owned and managed by the Foundation.

Old Louisville Guide - Old Louisville National Historic Preservation District America's Victorian Treasure. The Old Louisville Guide has everything about historic preservation in Louisville, Kentucky. Complete with events, museum info, library info, walking tour schedules, and historic property features, this site is a must see.

Kentucky Trust for Historic Preservation - An independent, non-profit 501(c) (3), bricks and mortar organization, which uses hands-on approaches to save Kentucky's endangered buildings and sites.

Louisiana

Foundation for Historical Louisiana - FHL mission is to preserve the architectural and cultural heritage of Louisiana. Headquarters is located in the 1930 Old Governor's Mansion, listed on the National Register of Historic Places. It is a replica of the White House, built by Governor Huey P. Long. Besides being a historic house museum, it is a venue for special public and private events.

Louisiana State Parks and Historical Sites

Maine

Maine Historic Preservation Commission

Maine Preservation - Maine Preservation is the statewide, non-profit preservation organization (1972) for Maine. Staff of four; includes seed grant program, revolving fund, and preservation easements program.

Greater Portland Landmarks, Inc. - Greater Portland Landmarks promotes preservation and revitalization of historic buildings, neighborhoods, and landscapes and encourages high-quality new architecture to enhance the livability and economic vitality of Portland and surrounding communities. We house the Frances Peabody Research Library, and we restored and run the Portland Observatory Museum, a National Historic Landmark and the last remaining maritime signal tower in the country (1807).

Maryland

Preservation Maryland - Preservation Maryland is dedicated to preserving Maryland's historic buildings, neighborhoods, landscapes and archaeological sites through education, outreach, and advocacy.

Peerless Rockville - Peerless Rockville is an award-winning nonprofit, community-based organization founded in 1974 to preserve buildings, objects and information important to Rockville's heritage. Peerless Rockville advances its goals through education, example, advocacy, and community involvement.

Massachusetts

Massachusetts Historical Commission

Michigan

Minnesota

Preservation Specialists Directory - The Preservation Specialists Directory is an online searchable database of contractors, suppliers and other preservation- and history-related specialists who work in Minnesota.

Mississippi

Mississippi Department of Archives and History

Missouri

Missouri State Historic Preservation Office

Montana

Nebraska

Nebraska State Historical Society

Nevada

Nevada State Historic Preservation Office

Nevada Preservation Foundation

New Hampshire

New Jersey

Historical Society of Princeton - The mission of the Historical Society of Princeton is to collect and preserve materials pertaining to the town and its environs, and to interpret the history of the area through exhibitions, educational programs, and publications. Since its founding in 1938, the Historical Society has amassed, recorded, and exhibited a collection of over 40,000 artifacts, manuscripts, photographs, decorative arts objects, artworks, and articles of clothing dating from the 17th century to the present, and has offered a broad range of educational services and activities to local residents, students, scholars, and visitors from around the world. The HSP maintains two historic sites, Bainbridge House and the Updike Farmstead.

New Jersey Department of Environmental Protection

Bergen County Historical Society - The Bergen County Historical Society, was founded in 1902 to develop public appreciation for Bergen County's remarkable history, especially through the preservation and study of its material culture. We are the only historical association to focus on the Bergen County, NJ as a whole, from its prehistory to the present day. The Steuben House, Campbell-Christie House and Demarest House are landmarks of Bergen Dutch sandstone architecture, popularly called "Dutch Colonial" and frequently seen and admired throughout northern NJ. The Steuben House still stands on its original site.

New Mexico

New Mexico Historic Preservation Division

New York

New York State Parks Historic Preservation Division

Aurora Coalition, Inc. - We are an upstate New York grass-roots historic community preservation organization.

North Carolina

North Carolina State Historic Preservation Office

Charlotte

Charlotte-Mecklenburg Historic Landmarks Commission

Elizabeth Neighborhood Community Association

Raleigh-Durham

Historic Oakwood - Historic Oakwood is listed in the National Register of Historic Places and remains the only intact 19th century neighborhood in Raleigh, NC. It is a key tourist attraction and it is home to hundreds of lovingly restored Victorian, Queen Anne, Colonial and Arts & Crafts style homes.

Historic Preservation Society of Durham

Salisbury

North Dakota

State Historical Society of North Dakota

Ohio

Heritage Ohio- We are the statewide preservation partner with the National Trust for historic preservation here in Ohio. Heritage Ohio exists to help people to save the places that matter; build community; live better.

Ohio Historic Preservation Office

Oklahoma

Saline Preservation Association - Established in 2003 to promote historic preservation and restoration within the Cherokee Nation of Oklahoma. Current major project is the Saline National Park, a rural 14 acre park with the only remaining rural district courthouse of the Cherokee National

Oregon

Pacific Northwest Field School- The University of Oregon's Historic Preservation Program is an interdisciplinary program within the School of Architecture and Allied Arts. The graduate program was established in 1980, and an undergraduate minor, open to any university major upon approval, was initiated in 1987. The courses, faculty and administration are interdepartmental. The Director of the Program and the administrative committee are appointed by the Dean.

Pennsylvania

Pennsylvania Historical and Museum Commission

Young Preservationists Association of Pittsburgh - Incorporated in 2002, the YPA is a 501(c)(3) nonprofit comprised of dynamic preservation leaders throughout the region organized to ignite a new historic preservation movement in southwestern Pennsylvania.

Philadelphia Society for the Preservation of Landmarks - The Philadelphia Society for the Preservation of Landmarks inspires people to engage with history by preserving our unique historic sites and by providing related historical, educational and cultural programming.

Rhode Island

South Carolina

South Carolina Department of Archives and History

Spartanburg

Hampton Heights Neighborhood Association

South Dakota

South Dakota State Historical Society

Tennessee

Association for the Preservation of Tennessee Antiquities - The Association for the Preservation of Tennessee Antiquities (APTA) is the oldest statewide nonprofit historic preservation organization in the State of Tennessee and is the fourth oldest in the nation. The APTA has maintained and preserved over 20 historic sites since it was founded in 1951. The APTA mission is to promote and encourage active participation in the preservation of Tennessee's rich historic, cultural, architectural and archeological heritage through restoration, education, advocacy and statewide cooperation. The APTA has 14 chapters across the state of Tennessee that are actively working to maintain and preserve 16 historic sites and that act as advocates for historic preservation in their cities and counties. We understand the importance of heritage tourism and education and their impact on Tennessee's economy and future.

Tennessee Historical Commission

Texas

Greater Houston Preservation Alliance - Greater Houston Preservation Alliance (GHPA) promotes the preservation and appreciation of Houston's architectural and cultural historic resources through education, advocacy and committed action, thereby creating economic value, developing a stronger sense of community, and improving the quality of life for all Houstonians.

Historic Houston - Historic Houston is a 501 (c) (3) non-profit dedicated to preservation and conservation of Houston's architecture and architectural resources through research, education, and advocacy for sustainable design. Historic Houston operates a salvage warehouse open to the public to facilitate the renovation and restoration of historic structures and has moved 24 historic homes to prevent demolition.

Preservation Texas - We are the only Texas statewide nonprofit preservation organization, a partner of the National Trust for Historic Preservation.

Utah

Utah Heritage Foundation -Established in 1966, Utah Heritage Foundation was the first statewide preservation organization in the western United States. Utah Heritage Foundation reaches communities throughout the state through a wide range of programs and activities.

Vermont

Vermont Division for Historic Preservation

The Preservation Trust of Vermont - The Preservation Trust of Vermont is a charitable, nonprofit organization founded in 1980 to initiate, stimulate and assist local and statewide efforts to preserve and use Vermont's rich collection of historic, architectural cultural and community resources.

Virginia

Virginia Department of Historic Resources

APVA Preservation Virginia - Through the Historic Property Revolving Fund, the APVA Preservation Virginia helps protect and preserve publicly significant historic properties in Virginia by using options to purchase, direct acquisition, or deed of gift to acquire threatened or endangered properties.

Washington

Washington Office of Archaeology and Historic Preservation

West Virginia

Preservation Alliance of West Virginia - Preservation Alliance of WV is the grassroots, statewide nonprofit organization dedicated to the support and promotion of historic preservation through direct assistance, education, advocacy, and heritage tourism.

West Virginia Division of Culture and History

Wisconsin

The Wisconsin Historical Society

Wyoming

Wyoming State Historic Preservation Office

The Alliance for Historic Wyoming - Wyoming's only active statewide historic preservation nonprofit. A 501(c)(3), AHW is dedicated to protecting Wyoming's historic and cultural resources in both the built and natural environments.