From The Archives
Open To The Public
c. 1870 Cottage
313 E. 3rd St.
Galesburg, Illinois 61401
Carl Sandburg Home State Historic Site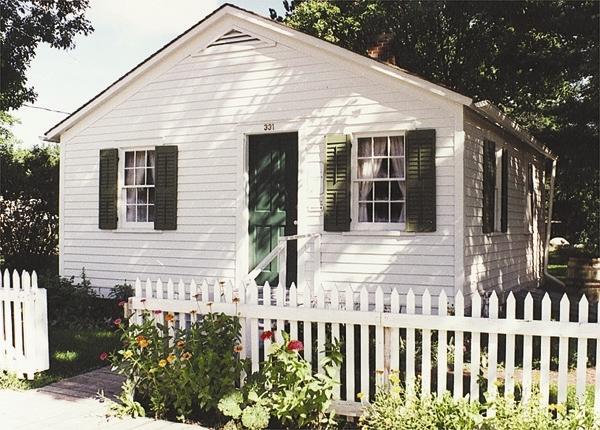 The Carl Sandburg State Historic Site is the birthplace of Carl Sandburg (1878-1967), a Pulitzer Prize-winning poet and Lincoln biographer, a children's author and folk song collector. Son of a Swedish immigrant who worked as a blacksmith's assistant at the nearby CB&Q railroad shops, Sandburg attended local primary schools and Galesburg's Lombard College. His first books of poetry were published in Galesburg.
Scroll down below the map for more information
Like This Listing?
Contact Information:
P.O. Box 585
313 E. Third St.
Galesburg, Illinois 61402-0585

Phone: 309-342-2361
Tell 'em you saw it on OldHouses.com!
Information and Hours
The Carl Sandburg State Historic Site is the birthplace of Carl Sandburg (1878-1967), a Pulitzer Prize-winning poet and Lincoln biographer, a children's author and folk song collector. Son of a Swedish immigrant who worked as a blacksmith's assistant at the nearby CB&Q railroad shops, Sandburg attended local primary schools and Galesburg's Lombard College. His first books of poetry were published in Galesburg.

The small frame home, architecturally significant as a "workingman's cottage," contains three rooms—parlor, bedroom, and kitchen. Carl Sandburg was born here January 6, 1878. Several original family items are on display, along with other simple, utilitarian furnishings typical of the era.

Behind the cottage is a tranquil garden where the ashes of Sandburg and his wife lie beneath a red granite boulder, "Remembrance Rock," the title of his only novel. Benches and garden plantings contribute to the quiet solitude of the area. A series of flagstones inscribed with quotations from Sandburg's writings is known as "Quotation Walk."

Also on the site is a two-story Greek Revival frame house built in 1858. The house currently serves as the site visitor center. On the main floor are a small video theater, the site office, a museum shop, public restroom, and small exhibit gallery.

Guided tours of the cottage are conducted upon request. In the visitor center, guests may tour the exhibit gallery, shop at the museum store, and view a video on Sandburg that was produced for the television series "Legends from the Land of Lincoln." Visitors may view the garden behind the cottage, and a free brochure is available that identifies the Sandburg quotations displayed along "Quotation Walk." The visitor center's first floor and the birthplace cottage are accessible to persons with disabilities.

The site hosts special events including "Songbag Folk Concerts" and the "Sandburg Days Festival" in April. The Carl Sandburg Historic Site Association supports site programs.

For more site information visit: www.sandburg.org

Open: Oct-Apr, Sa, 10-4 pm; May-Oct, Th-Su, 9-5 pm. Reduced hours due to staff shortages.


Archived in November, 2011
Comments & Feedback