From The Archives
Operating Bed and Breakfast
Rentable Venue
1904 American Foursquare
The Edwards House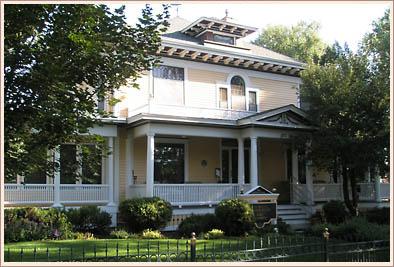 The Edwards House was built in 1904 for Alfred Augustus Edwards, an early Colorado pioneer from Mercer, Pennsylvania. Mr. Edwards was instrumental in building the first irrigation projects in Northern Colorado, including the Mercer Canal and Chambers Lake.

Built by reknown local architect Montezuma Fuller, this elegant house of neo-classical design embellishes on the popular "Denver four-square" pattern. The high ceilings and large leaded glass windows provide a bright spaciousness that complements the antique furnishings.

The house remained the Edwards family home until 1981 when it was sold and used for offices. In 1992, Greg Belcher purchased and renovated the Edwards House, restoring it the beautiful Bed & Breakfast you see today. The Franklin and Sara Avery Suite
Named for its view of the historic Avery House, this romantic suite of rooms includes a warm fireplace, a queen-size canopy bed, a claw foot slipper tub and European shower, and pine armoire. The uniquely designed Paladin window contributes to its grand neo-classical character. There is an adjacent sitting room with a quaint writing desk. The Agnes Mason Giddings Room
As the first pioneer child born in Fort Collins, Agnes M. Giddings would have been at home in this bright, distinctive room. This room has sunny south facing windows, a queen-size four poster bed, and a warm cozy fireplace. This is the one room without a private bathroom. The detached, private ¾ bath is two floors down (near the sauna).
Archived in October, 2010
Comments & Feedback