From The Archives
Rentable Venue
Open To The Public
1896 Victorian: Queen Anne
Falcon Rest Mansion & Gardens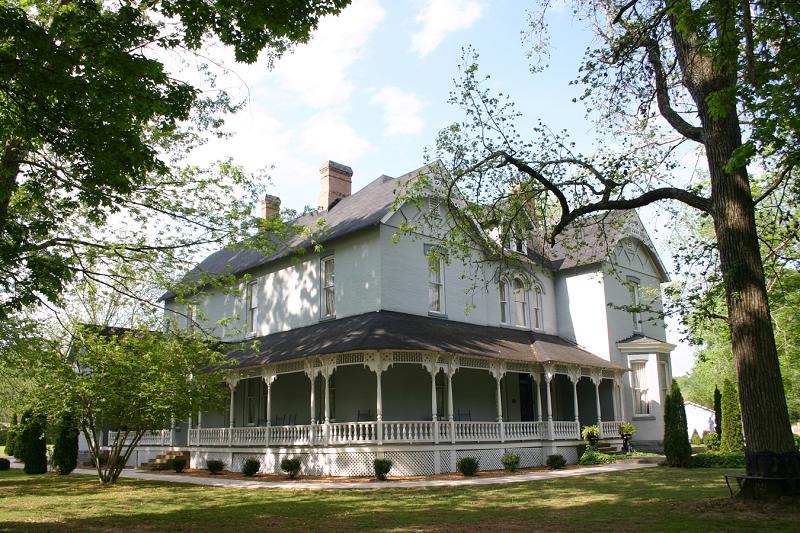 Falcon Rest is the Victorian mansion where history is fun. It was built in 1896 by 'Gorilla Pants' manufacturer Clay Faulkner, who promised his wife "the grandest mansion in Tennessee" if she would move near his woolen mill. Called "Tennessee's Biltmore" by PBS, Falcon Rest had all the "modern conveniences" - electric lights, indoor plumbing, central heat and more. Today, it is filled with museum-quality Victorian antiques, and some say it's presided over by a friendly ghost - perhaps the proud builder himself. Falcon Rest's Victorian Gift Shop, with over 3,000 items that could have been in the mansion in the 1890s, has been called an attraction in itself. Delicious lunches are offered in the Tea Room for walk-ins daily. Special interactive, history-based entertainment shows with meals and mansion tours are available for tour groups by reservation. Located in McMinnville, "the nursery capital of the world," halfway between Nashville and Chattanooga. Rose Bedroom at Falcon Rest
Falcon Rest is filled with period Victorian antiques. Visitors say it looks like the original residents never left. Falcon Rest Courtyard
The mansion's extensive gardens reflect the bounty of its home area. McMinnville, Tenn., is "the nursery capital of the world."
Archived in October, 2009
Comments & Feedback