Off Market
1919 Craftsman Foursquare
Monroe, North Carolina 28112
Awaiting Its New Owner! Come Tour this Beauty!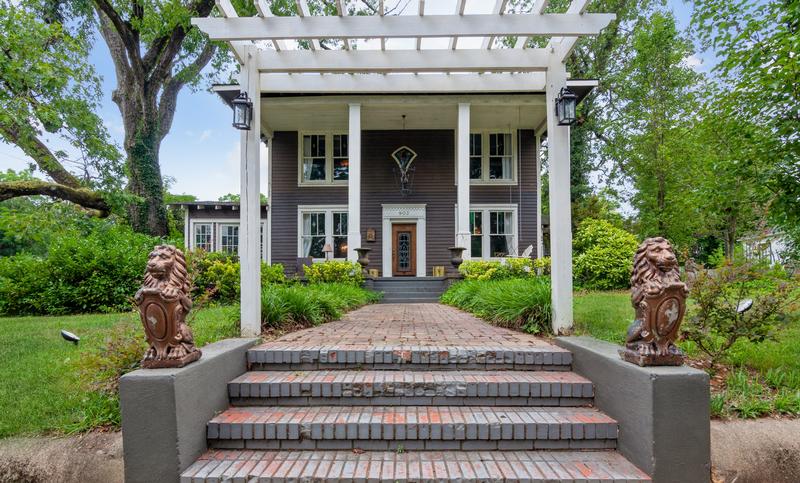 One House, History, Elegance, Wildlife Habitat, and Two Rental Units Rolled into One Property!
Charming historic home awaits its new owner! This property, built in 1919, is on the National Register of Historic Places. Located on a beautiful
half-acre corner lot
, it was lovingly restored and renovated by the former owner over the past decade.
Stained-glass windows and chandeliers
grace every room making it truly unique.
The former owner had the backyard certified as a Wildlife Habitat and named it
Willow Song Gardens
, a place to renew and relax!
Scroll down below the map for more information
| | |
| --- | --- |
| Bedrooms | 6 |
| Full Baths | 4 |
| Half Baths | 1 |
| Heated Sq. Ft. | 3,191 |
| Unheated Sq. Ft. | 969 |
| Stories | 2 |
| Acres | 0.5 |
Features.
Has Rentable Unit(s)
2nd Floor Laundry Room
Crawl Space
Dining room
Kitchen
Living room
Sunroom
Master bedroom downstairs
2 Car Garage
Circular driveway
Driveway - Dirt
Guest House
Porch
2 Fireplaces
Original wood windows
Walk-In Closet(s)
Wood floors
Shingle Roof: Asphalt shingle
Central air
City sewer
City water supply
Dishwasher
Heat pump
Range
Refrigerator
Security System
Water Heater - Electric
Carriage House
Claw-foot Tub(s)
Coffered Ceilings
Stained Glass Window(s)
Stained woodwork/doors
Vintage Bath Fixtures
Vintage Hardware
371 SF Efficiency unit
610 SF Apartment
Local / Regional Links.
Architect
Eugene Ashcraft
Like This Listing?
Contact Information:
Coldwell Banker Realty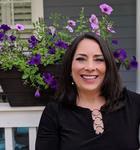 Carolyn Tibbetts
280645
Mobile: 704-989-7808
Office: 803-326-1600
Fax: 803-324-5787
carolyn.tibbetts@cbrealty.com
Website: carolyntibbetts.com
Tell 'em you saw it on OldHouses.com!
History
Built in 1919 by Eugene Ashcraft for the secretary-treasurer of Icemorlee Cotton Mills, C. C. Stokes. The house received a Mount Vernon porch and door surround ca. 1950. The welcoming pergola was added ca. 2015. Homes from this time offer better details, materials, workmanship, and design. Inside, areas for work, study, eating, and relaxing are perfect for the way we live today.

The former owner, Gail Young Marshall, who founded Auctions by Marshall in 1981, purchased the property in 2011. Gail was an incredibly talented painter and sculptor and her works are seen throughout the home. She was very much a collector and lover of art as seen in the photos. The contents of the home were auctioned in October and the property is now completely empty and _ready for its New Owner.
City Of Monroe
Monroe is the county seat of Union County, NC. From the large historic district complete with stately homes and a newly revitalized downtown to its industrial core attracting businesses from across the globe to the ever-growing retail marketplace, Monroe has something to offer to all.

The downtown area is currently in the throes of a revitalization plan that has been spearheaded by city leaders. The plan is geared to increase traffic to downtown businesses as well as to show off the charm of the tree-lined streets and make the downtown area a destination for families. Several activities like live music, antique car cruise-ins, and outdoor movies, to name just a few, are held throughout the year. At times, the downtown also finds itself the center of attention as film crews use the backdrop of the historic Union County courthouse and charm of Main Street in major motion pictures.

Monroe continues to grow its industrial base in the Monroe Corporate Center, strategically located adjacent to the Charlotte-Monroe Executive Airport and South Piedmont Community College. The Corporate Center plays home to several international and local companies and has room for continued development. Monroe is known for its aerospace industry cluster. The recent growth of this business segment goes hand-in-hand with the growth at the airport. The 6,000-square-foot terminal overlooks a runway that has been recently expanded to 7,000 feet to attract businesses that will land and store their private jets in Monroe.

Other retail development along U.S. 74 includes large national retailers as well as small family-owned businesses. This development has occurred at a steady pace, giving residents shopping options that will keep them close to home. South Piedmont Community College strengthens the city's economic and educational future. SPCC has two campuses on Old Charlotte Highway and offers numerous degree programs along with continuing education, college transfer, basic skills, and workforce training. Monroe is also home to Carolinas Medical Center-Union, Novant Health Medical Plaza, and several medical offices and specialists to provide the highest level of medical care available.

Regarding recreation, Monroe is home to the Monroe Aquatics and Fitness Center, a state-of-the-art facility complete with workout area, basketball courts, indoor swimming pool, and an outdoor water park. The city of Monroe also operates the Monroe Country Club, a municipal golf course that is truly a delight to play.

Whatever your need or desire, Monroe is your destination.

courtesy of City Of Monroe Tourism Department

Improvements
Written in the words of Gail Young Marshall for the Monroe Tour of Homes


Front Entrance – The pergola was built as a Christmas present to myself. I think roses are a wonderful addition to an entrance, if I can keep them growing. The front entrance walk was replaced by pavers. The walk that was there had "reared" up and cracked due to the roots of the oak trees. Front porch – the Mt. Vernon columns and roof, which was an addition around 1950 and needed minor repairs to columns and floor. Only thing really major was that paint would not stick to the floor. Thanks to a paint manufacturer for finally recommending the right paint.

Front door – was replaced due to the cracks, paint, the fact that it would not lock when you wanted it to and did lock when you went out without a key. The French door seemed appropriate and lets in lots of light.

Living Room – Original coffered ceiling, original windows, original fireplace, (although it was interesting to get the bird and squirrel nest out of it) and original floors, refinished.

Sunroom – Well, what can I say, it had been converted into a bathroom. It was completely surrounded with aluminum siding, and the only window was one small one in the rear of the room (about the size of the back window in a pick-up truck). The day after I closed, a friend said, "someone told me that the original windows are still inside the walls". As soon as I was sure we were recorded, I took to the sheet rock with a screwdriver and sure enough the windows were still inside. Then, two days later, my friend was once again here and egged me into tearing the siding off the outside. The light that came in was unbelievable. We tore out everything. We tore out the ceiling and the walls to the studs. Worked on the roof, and stood back and said, "what now?". Anyway, after finding French doors that matched, and the wonderful stained-glass window at the rear, (which by the way was the window that was in the original "Record Bar" in the 60's) and replacing the floor with slate, the room started to come together and look like it belonged in a 100-year-old house.

Dining Room – Once again, back to the studs. Four different wall coverings, although I did find some really wonderful wallpaper, just not salvageable. The opening from the bay window into the sunroom had been
closed. It was reopened and reproduction leaded glass window transom was installed. The far-right window on the bay had been closed in. It was replaced with a window from another part of the house. The opening between the dining room and kitchen was a small "contemporary style" door with pass-through beside it. Opening was enlarged and period trim was added, (once again, I took out a wall). Original coffered ceiling and floor.

Kitchen – what can I say? It had 6 layers of underlayment on the floor. Each one as it came out got grainier, and rottener. After I cried, I stood back and said, "take it all out to the studs". At this point, the ceiling was sheetrock with popcorn. (I had been told at least 3 times there was another ceiling above that one, but I didn't think I wanted to tear this one out for 4 more inches of ceiling height). Anyway, a family member was over here and said, "do you know there is another ceiling above there", "so I've heard". Then she said, "do you know it is beautiful"? No one had ever told me. I got the carpenter and he cut a hole in the ceiling. He got a flashlight, and I will never forget his words, "Oh, come here darling, you're gonna wanna see this!". Underneath was the tongue and groove pine ceiling, with coffers, aged to the perfect point of perfection point. I got everyone in there and the ceiling was down in 45 minutes. The ceiling did take some repair but compared to the floor it was a cake walk. Tore out the floor from just past the entrance to the dining room to the backdoor. Replaced the flooring in the kitchen and keeping room with cork. Installed large window over the sink and counter area, so that I could see the wonderful Oak trees. Replaced back door with French door, I'm on a roll, why break the rhythm.

Keeping Room – The flooring was wonderful, handmade parquet; however, it had been butchered to the point of no repair. This made the decision to continue the cork floor into that room a "no-brainer'. Parts of the room had sheetrock installed over the paneling, partially due to a small form in the room some 25 years ago. We uncovered as much of the pine as possible and restored and refinished as best we could. The one wall that could not be repaired was sheet rocked and painted black to make it "disappear". The mirrors on the wall came from the jewelry store in Heritage USA, PTL club. They started life as doors and cabinets. I had them installed in the formation you see with some of my favorite molding. The window to the right of the fireplace was taken out and installed in the bay window in the dining room since it was an exact match. The full length window was one that was left over from my house in the mountains, and the stained glass hanging there is over 135 years old. I could never find the right spot for it till this house. Guess it was just waiting to come to this house. I replaced the top window panels with the colored glass, since the view of the underside of the rafter tails was not the best view. The fireplace had some minor work done to the wood, and the marble replaced damaged slate that was there.

The Hall – What can I say for such a small space it caused more work. I had replaced the door with a vintage French door (yep, still on that roll) and the combination of the roof no longer being there, the threshold not being adequate, and the door just being old, water came in that door every chance there was. I tried everything for two years…still the water came. Then one day we tore all the thresholds up (yes plural) and started from scratch. The flooring was three different types of wood. I decided that was "charm". The ¼ round had places that it didn't have anything to nail to (gaps of various sizes and shapes), so that is a work in progress. Closed up two doors going into that hall, and called it done.

Master Bath – Well it was the size of an airplane bath (really). The shower had rotted and fallen off under the house, which left a small sink and toilet. Gut time again. The laundry room was on the other side of the hall, along with an "area" beside it. I put two closets in on the right (where the bath had been) and took out walls, ceilings and floors to put in Gail's proper bath. The wall on the right was added and the leaded glass windows were auction finds. It is very girlie and works for me. Done out of auction finds (vanity, etc.) and as much creativity as I could find, I got a bath.

Bedroom – Well, the floors were covered with red shag carpet. The floor area by the door had holes and had been covered with a piece of metal and covered with the carpet. Repaired sheet rock and ceiling. Installed moldings. Painted it. And believe it or not those are the floors refinished and repaired. The area at the outside door where left over cork flooring is installed is the only major repair. The door was replaced and the stained-glass window installed (came from my house in the mountains).

Outside – Replaced the porch off the kitchen, and the one off the bedroom.
Carriage House – Replaced all siding, moved stairs and porch to the other side of the building, installed stained glass windows (two on front, two on sides). Transformed the area over the garage into a living space with a kitchen area. The area behind the garage has a bedroom, bath, and eating area.

Now I'm going to get "mushy". As much as I love this house, it is the trees that I love most. I lost one tree about 8 months ago, however the remainder stand tall and proud; thus, I have named this place "Grand Oaks". The Druids call these trees (oaks) the Kings and they were held in the highest regard. I have been told that these trees are about 125 years, thus being at least 25 years older than the house. On the days that aren't going exactly the way I was hoping, I walk outside, look up at these wonderful trees, and realize how incredibly blessed I am to live here, in this house, on these grounds, and especially to be in the wonderful town of Monroe.

Thanks for coming to my home. An old house is a labor of love, that never ends!!…..hope you will come again. - Gail Marshall



Comments & Feedback