From The Archives
1804 Italianate
Lexington, Kentucky 40502
Ashland: The Henry Clay Estate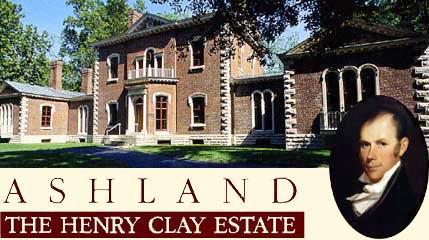 This magnificent two-story brick house is the centerpiece of the Henry Clay estate. Its status as a National Historic Landmark reflects the prominence of the great statesman who developed this beautiful property and resided here for more than forty years.
The house and its grounds have been beautifully preserved and are open to the public. For more information, visit our web site at
www.henryclay.org
Scroll down below the map for more information
Visiting Ashland
Visiting Ashland, The Henry Clay Estate is like taking a step back in time. Allow at least an hour, but on a pretty day you'll want to take no less than two hours to see the house, visit the museum store, have lunch, and enjoy the serene and historic grounds and to stroll the formal garden. You won't want to miss lunch in the pleasant surroundings of the Ginkgo Tree Cafe located on the brick patio surrounding the smokehouse.

And, of course, the most important part of your visit is a guided tour of the 18-room mansion. There are also six outbuildings that have been restored and changing exhibits in the 1846 cottage. The main house has been recently renovated and is furnished with Clay family antiques and other memorabilia - many of them dating back to Henry and Lucretia Clay's time. The appearance of the home today is as it was when Henry Clay's granddaughter lived at Ashland in the late 19th century. Your tour begins with an introduction to Henry Clay and Ashland with a 12-minute videotape before your guide greets you and takes you through the house.
Ashland Museum Store
A visit to the Musuem Store is like an extension of your visit to the house. It is full of Victorian gift items, Clay memorabilia, and souvenirs of your visit to the Bluegrass region of Kentucky.
The Ginkgo Tree Cafe
Lunch at the Ginkgo Tree Cafe is the perfect compliment to your visit. Gourmet box lunches are prepared off-site and brought in fresh daily. There is also a large selection of delicious desserts and snacks. The cafe, which is located in the pleasant surroundings on the brick patio of the old smokehouse, is open Tuesday through Saturday from 11 to 3 from April through October, weather permitting. Menus are available upon request, 859 266-8581.

Groups and buses are always welcome for tours and lunch. For groups larger than 12, reservations are appreciated.


Hours and Ticket Prices
Guided tours daily. The one hour tours start on the hour.

Hours: 10 am - 4:00 pm Monday - Saturday,
1:00 pm - 4:00 pm Sunday.
The last tour of the day begins at 4 pm.

January: CLOSED
February: Open weekends and by appointment
March, Nov. & Dec.: Closed Mondays

Admission: $7 Adults, $3 children (ages 6 - 18), children 5 and under free.

Special rates and arrangements for groups.

Archived in January, 2007
Comments & Feedback