From The Archives
c. 1896 Ranch
Ranch
Kerrville, Texas 78028
110 Year old Home on 25 Acres, in the Beautiful Texas Hill Country, briming with History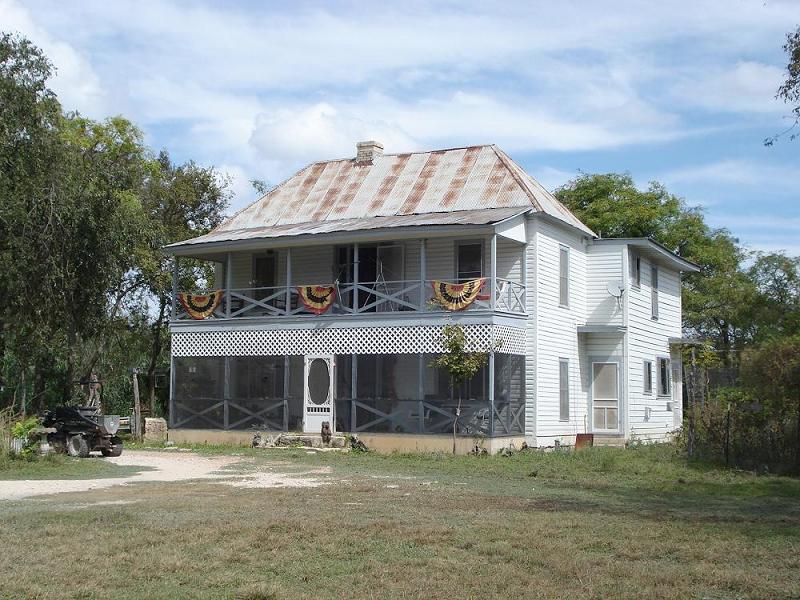 The hand hewn log cabins that the Spicers lived in before the 'New Home' was built in 1896+-, ares still on the property, along with many old farm and ranch equipment and relics. The Spicers came to America in 1874 with one peice of urniture and 5 shipping crates, and amassed over 5,000 acres of the Beautiful Texas Hill Country just 4 miles From Kerrville. Beautiful old home, Great Views, secluded, private, yet only 5 minutes to town.
Scroll down for more information
No Contact Information.
This listing is archived and is not for sale.
Contact information is not available for archived listings.
The New Home at the Spicer Ranch Headquarters pasture.
The beauty of an old 'Historic Home' is seen through the wavy glass in the windows, the beautiful long Leave Pine walls in the hallway, the original hardwood floors, 9 1/2' tall ceilings, and the fabulous views from this old home, and the fact that the last 'Wild' Indian seen in Kerr County was seen from the front yard of this home.

The Spicers came to America, from London, England, via New York City, then on to the Beautiful Texas Hill Country, in around 1874. They brought with them one piece of furniture and 5 shipping crates of belongings. Mr. Spicer was a renowned Artist, who's Dad helped design and build the Crystal Palace in Paris, France for the 1st World's Fair, among many other things.

This beautiful old home on 25+ Acres of land is just an hour NW of San Antonio. The five shipping crates the Spicers moved their belongings from England to here in, and the attic that is chock full of Spicer articles and belongings, and the many other pieces of furniture and articles that were bought with the house, are still on the property.

There is a small but comfortable 'Camphouse' for guest, a great all but new 50' X 100' steel Barn, plus sheds, corrals, chicken coop, Green House, Seed Room, etc.

The old home was positioned to catch every Texas Hill Country breeze, so there was never any reason to install air conditioning. And, it sill has none. A 'heated' Swimming pool made to look like an old rock cattle watering trough gets lots of use in the winter and especially the hottest days of summer.

It is almost impossible to walk through the beautiful Live Oak Trees and Cedar and not find some kind of old farm and ranch equipment, tool, or implement lying around.

Archived in October, 2012
Comments & Feedback