For Sale
1903 Neoclassical
Dr. J.M. Belk Mansion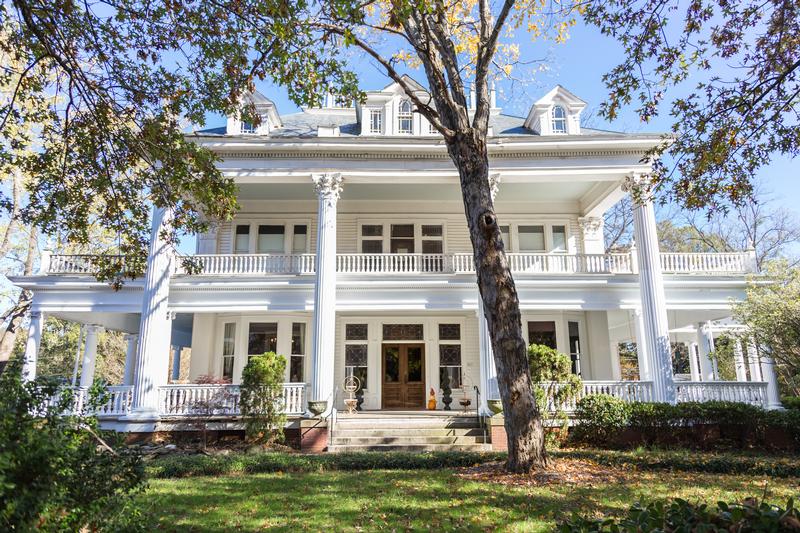 The largest and most impressive of the Neo-Classical Revival residences built in Monroe during the first two decades of the 20th century. This massive house was erected for Dr. John Montgomery Belk, a S.C. native, who with his brother founded what was to become the largest chain department store in the southeast U.S. With the commercial zoning, this property would be an amazing event space, bed and breakfast or restaurant.
Scroll down for more information
| | |
| --- | --- |
| Bedrooms | 4 |
| Full Baths | 3 |
| Half Baths | 1 |
| Heated Sq. Ft. | 6,052 |
| Acres | 1.0 |
Features.
Commercial Property
Widow's Walk
Wrap Around Porch
1-story fluted columns w/ Scamozzi capitals
2-story fluted columns w/ Tuscan bases
A garden room
A servant paging system
Classic radiators
Commercial / residential zoning
Four solid wood fully-workable pocket doors
Fourteen fireplaces
Grand staircase
Original carriage house
Original chimney-pieces
Original hand-blown and curved glass window panes
Original hardware and plaster walls
Slate roof on main home and carriage house
Spectacular woodwork
Like This Listing?
Agent Contact Information
Showings by appointment only
The Moser Group
Mackenzie Moser
Phone: 704-882-1700 x 211
Mobile: 704-201-6333
mmoser@themosergroupinc.com
Tell 'em you saw it on OldHouses.com!
Property Highlights
The remarkably intact house, known locally as the "Belk Mansion", features a two-story, double-pile, center-hall plan main block covered by a slate hipped roof with a widow's walk. The roof extends over an engaged two-story, full-facade portico with monumental composite Order fluted columns. There is also a one-story Ionic order full wraparound porch with a porte-cochere on the south elevation and a turned balustrade on both the deck and the roof. A two-story semi-circular bay on the north elevation and a two-story semi-hexagonal bay on the south also have turned balusters on the roof. Two small gabled dormers are located on the side and front slopes of the hipped roof; those on the front flank a larger gabled dormer with a Palladian window and a balustraded balcony. These dormer windows light a full attic.

On the first floor of the three-bay facade, one-story semi-hexagonal bays flank the entrance, which has a double-leaf door between full-size one over one sidelights and below a three-part transom in a paneled surround. The transom and upper sash of the sidelights have stained glass. Tall corbeled-cap brick chimneys are in interior end and interior positions, and a wide frieze is decorated with a dentil course. Extending across the rear is a one-story, L-shaped wing with an engaged porch which has turned posts and balustrade and wood lattice between brick piers. A semi-circular walk leads to the house from the sidewalk; a high hedge runs along the north edge of the property, to the line of the east edge of the house where a chain link fence begins. (National Register)

• Located in the heart of downtown Monroe within the Historic District overlay

• Public parking directly beside and across the street from the property
Outside Improvements
Built handrails at front stairs, side and back stairs
Added Gate over carriage step stairs
Built Ramp
Added koi pond and landscaping around it
Added new stone patio by driveway and landscaping around it
Changed carriage house into garage, installed new garage doors
Planted English box woods, hydrangea trees and rosemary bushes in back patio
Planted grapevine, hydrangea, roses, perennials, bulbs, day lilies, crepe myrtle trees in yard
Built new arbor in side yard
Added new fountain by driveway
Built a path to enter front yard from driveway
Painted and repaired front porch, back porch, second balcony floors and stairs
Updated electrical wiring in the garage and workshop
Fenced in the backyard
Repaired railings from second floor up
Fixed columns
Added storm door to side door
Renewed security system
Added historic house sign
Planted new grass in front lawn
Cleared bushes outside side and back fences
Pressure washed in May/June 2018
History
o The house was built in 1903 by Dr John Montgomery Belk.
o When he died in 1928, he gave the house to Mabel and any unmarried daughters.
o When Mabel died on April 4, 1950, she gave the home to her only unmarried child, Sarah, who was a student in Salem College in Winston-Salem at the time.
o Sarah gave the home to Trinity Presbyterian Church in June 1954.The church gave it to the Henderson Belk Foundation on December 19, 1955.
o The Belk Foundation "sold" it to the Union County for $100.00 on 10-10-1957.
o From October 1957 to April 1972, the Chamber of Commerce, the Industrial Commission, the Board of Education, the Red Cross, the Social Security, and the Veteran Service all established offices on the premises. The Monroe Historical Museum was also on site.
o In April 1972, prominent developer Leroy Rushing owned the mansion for a few months. o On September 22, 1972, Morgan Foster became the first private owner of the home. He used the garage as his insurance office.
o On April 22, 1995, the home was auctioned to David and Donna Barnhardt. They moved in on July28, 1995.
o In December 1997, Jeff and Beverly Breeze bought the home.
o On March 27, 2007, Cliff and Rose Chin became the new owners of the home.
Some Interesting Tidbits
Mrs. Belk was an avid gardener and received much acclaim for her beautiful rose garden.

The attic was a roller-skating rink for the seven Belk daughters and also an area for stage shows for the family. Also, Dr. Belk's second oldest daughter, Sadie, took fencing lessons and used the attic for practice. Her sisters would go up and watch.

Federal troops captured Confederate soldiers in this yard during the War Between the States.

Mabel Belk, Dr. Belk's third daughter, fed breakfast to soldiers from Camp Sutton during WWII.

According to Sara Dew Misner, daughter of Mabel Belk, the home was a happy family house and it was always full. Growing up, the daughters always had friends over to play. As they got married and moved away, they and their families would always come home at Christmastime.
Comments & Feedback