From The Archives
Operating Bed and Breakfast
Rentable Venue
1914 Jacobean Italian Renaisance
25 S. 15th St
Allentown, Pennsylvania 18102
Historic Brenner Mansion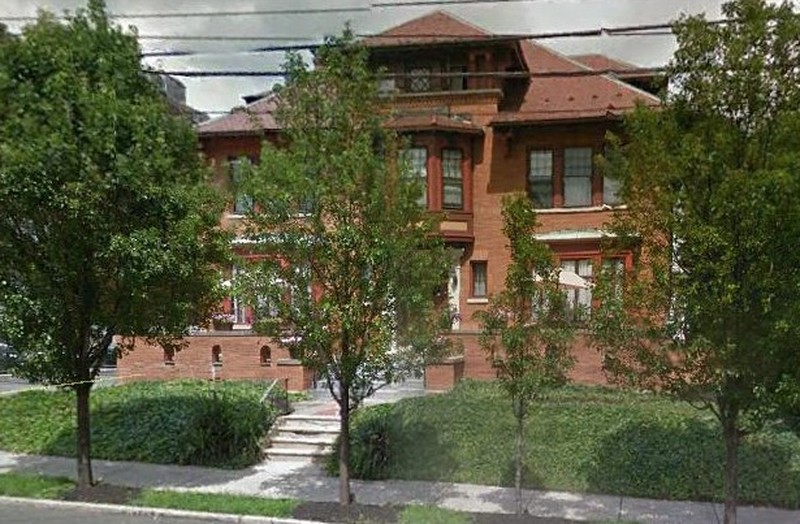 An Architectural and Historic Treasure The Historic Benner Mansion is here to provide you with historic and friendly accommodations, the first and still only Bed and Breakfast in the historic Center City of Allentown. An architectural treasure, this Jacobean Italian Renaissance features mahogany paneling, a soaring staircase and lion motifs in the expansive Rococo plaster living room ceiling, radiators and window seat claw foot legs.
Scroll down below the map for more information
Like This Listing?
Contact Information:
25 S 15th Street
Allentown, PA 18102
Mobile: 484-560-2810
Tell 'em you saw it on OldHouses.com!
History
In 2014, we celebrated the 100th Anniversary of The Historic Benner Mansion. We are very honored that the descendants of Captain Nolan P. Benner are so pleased with our rescue and restoration of this fabulous home that they have been donating back the original furniture and personal items of Captain and Mrs. Benner. Our favorite item so far is the original brass bar rung that we have returned to General Trexler's bar in the SkyTop Lodge replica room in the basement. In the future, our goal is to seek National Historic Landmark designation to help protect the mansion, the Benner and Trexler belongings for posterity. Now, enjoy the detailed history of this wonderful home by a local historian. We also would like to acknowledge the descendants of Captain Benner who have been sharing original photos and household items dating from the Benner family's occupancy of the home over 50 years. In time, we will be featuring these items and their history on this website to deepen your enjoyment of the rich past of this beloved Allentown landmark.
A House With a Past
The Story of The Historic Benner Mansion of Allentown
By Frank Whelan, Allentown historian and journalist A House With a Past The year was 1910, William Howard "Big Bill" was in the White House, all 300 plus pounds of him. Women, at least some women were demanding the right to vote. And a steamship company called White Star, thrilled with the popularity of its new liner Olympic, the largest man made object afloat was busily engaged in building her longer and even more luxurious sister. Her name, so the press was reporting, was to be Titanic. That same year not far from the southeast corner of 15th and Hamilton Streets in Allentown, a large new home was going up at 25 S. 15th Street in the city's mansion district. Since 1999 it has been the home of civic, business and political leaders Siobhan "Sam" Bennett and Martin U. Estrada. Dedicated to the renaissance of Allentown for almost thirty years, the fifteen year restoration of this remarkable historic landmark into Allentown's first and still only B&B, gives them a means to share what makes Allentown such a special city. History Support An Architectural Trendsetter From the start 25 S. 15th Street was turning heads. Its architectural style was a little different and perhaps off putting by the conservative standards of the Lehigh Valley. Gone were the gables and turrets of the Victorian Queen Anne. In its place was a wide welcoming plaza of lavender hued brick. It seemed to seek the light and sunshine rather than hide from it like a Victorian lady behind her parasol. The house contained aspects of a style that would later be called Arts and Craft. And if not nearly as radical as the Prairie Style homes then appearing in the Midwest by a daring young architect named Frank Lloyd Wright, it surely owed something to their spirit. The mansion's interior was no less grand. Its rooms touched a variety of historical periods that included a Jacobean library/music room and a Colonial Revival kitchen. But unlike the mishmash of period styles that marked the Victorian eclectic of the late 1800's, the rooms at 25 S. 15th sought their roots in the purity of authentic historical forms, a doctrine laid down by the Ecole des Beaux Arts architects in Paris and followed by their most devoted American disciples, the high society architects McKim, Mead and White. HistorySupport2 In 1905 Sanford White, the firm's flamoyant name partner, had regrettably lost his life on the roof garden restaurant/theater of Madison Square Garden to the half crazed millionaire Harry K. Thaw in a jealous rage over the architect's attentions to the Evelyn Nesbitt, Thaw's chorus girl wife. But no one questioned the firm's reputation as architectural taste setters. In 1902 they had totally redesigned the public rooms in the interior of the White House. Among McKim, Mead and White's imitators in the Lehigh Valley was the firm of Warren Edgar Ruhe and Robert L. Lange the leading firm in Allentown, the likely architects of 25 S. 15th Street. Both men had studied architecture at some of the leading schools in America. Ruhe, an Allentown native whose family roots went back to the early days of the city and a 1893 graduate of the University of Pennsylvania's School of Architecture had toured privately in Italy and France soaking up the classical styles so prized by American millionaires. Lange, a New Yorker, had worked for the firm of George Post, before coming to Allentown in 1901 and forming Ruhe & Lange. Many large homes and several Lehigh Valley institutions, including Allentown's Muhlenberg College were among their prominent commissions. Bonneville: First Owner of HBM Locals know the house today as The Historic Benner Mansion after Captain Nolan P. Benner who from 1916 to 1933 was the personal aide to General Harry C. Trexler – Allentown businessman and philanthropist, founder of both Allentown's reknowned park system and the Harry C. Trexler Trust which to this day maintains those parks in the exceptional manner all Allentownian's enjoy. Captian Benner purchased the home in 1937. It had been built for William Bonneville, a local cement manufacturer, whose fortune had been established by his father Amble B. Bonneville. Born a French-Canadian in Montreal in the early 1830's, the elder Bonneville was educated at Jesuit schools and eventually got a degree in civil engineering. In 1857 he married Miss Sarah A. Holman of Cincinnati. After a career in the dry goods business in Buffalo, N.Y. he became president of the New York Plaster Company which was then the largest maker of plaster in the country. In 1866 Bonneville came to the Lehigh Valley. Over the next nine years he became the leader of the region's cement industry including the Atlas Cement Company near Coplay and the Allen Mills at Siegfreid now Northampton, making it according to his biography "one of the best plants in this famous cement region." Bonneville was also active socially as a founder of Allentown's Livingston Club. But he did not have long to enjoy his wealth, dying suddenly in Allentown on November 8, 1895 at the age of 64 and buried at Fairview Cemetary in Allentown. His son William Bonneville was to live in his home at 25 S. 15th Street from 1910 to 1927. Although a businessman in his own right, he preferred the life of what was called in those days a clubman and sportsman. Bonneville often traveled vast distances into Canada on hunting and fishing trips. In 1927 he moved out of 25 S. 15th Street and into a large suite at the then posh Hotel Traylor. The home was acquired in 1928 by Charles H. Bear founder of the G.H. Bear Furniture Company with his brother George. Following his brother's death Charles became sole owner of the company's factory at 727-729 N. 15th Street. In 1931, James H. Sheldon and his wife Beatrice purchased the home from Bear. Sheldon owned with his brother Fred the James H. Sheldon and Fred B. Sheldon Silk Company, located at 749 Pittston Street in Allentown. Sheldon only owned the property until 1933 and the 1934-1935 city directory states the home is vacant, perhaps a victim of the Depression, and is once more vacant in the 1936-37 directory. Captain Nolan P. Benner & The Historic Benner Mansion The 1937-38 city directory is the first to list Captain Nolan P. Benner as the owner of 25 S. 15th Street. By that time General Trexler, for whom he had worked since 1916 had been dead for 5 years. Captain Benner had been named the executor of his will and administrator of the Harry C. Trexler Trust. This required him and his first wife "Nettie" Benner to do a lot of entertaining. This may be why they purchased a bigger home. In a 1999 interview with Bob Wittman of the Morning Call, Captain Benner's daughter Betty Benner Garrettson, described the lifestyle of her parents as "cocktails parties, intimate dinners and spirited holiday drop-ins." Benner added his own unique touch turning the basement into a rathskeller molded after one at the Skytop Lodge resort in the Poconos. Another unique feature of the house located under the dining room table was an electric button placed on the floor under the oriental rug. It could, at least in theory, be run silently to call the cook. But, Garretson recalled, her mother could never find the buzzer and in frustration would usually end up shouting "Mary!". After Benner's wife died he married Carolyn Thomas. They continued to host parties and family events there. The Historic Benner Mansion Today With Benner's passing 1980, the home was sold by his widow and purchased by a real estate agent and in the early 1990's sold to a young man from Bethlehem. But his untimely death in 1997 left the property without an owner. On the point of being ruined by vandals the city covered its windows with plywood board to secure it from unwanted intruders. It was in this state when it was purchased by Bennett and her husband in 1999 who have been tirelessly working on its restoration ever since. They have carried on the Benner tradition of entertaining with their Annual Black Tie Holiday Pot Luck the first Saturday of December and hosting events for the Allentown Band, Rotary Clubs and more. Seeking to have The Historic Benner Mansion be an even more active participant in the revitalization of Allentown and to help preserve the home over the long term, they successfully obtained approvals to have The Historic Benner Mansion be Allentown's first bed and breakfast. Lucky guests will only get to enjoy not only a masterpiece of architecture but stay in one of the signature homes of the region that once housed leading citizens of the Lehigh Valley.

Archived in December, 2015
Comments & Feedback