From The Archives
Rentable Venue
Open To The Public
1886 Romanesque Revival
122 Owego Turnpike,
Milford, Pennsylvania 18337
Grey Towers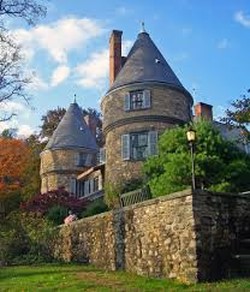 The public is welcome to visit Grey Towers National Historic Site for guided tours of the mansion and garden. The grounds are open from sun-up to sun-down year round. Natural resource groups are invited to use the Grey Towers conference center for meetings and workshops.
Scroll down below the map for more information Like This Listing?
Contact Information:
122 Old Owego Turnpike, Milford, PA 18337
Tel: (570) 296-9630
Grey Towers is located in Milford, Pennsylvania near the junction of New York, New Jersey and Pennsylvania.

Phone: (570) 296-9630
Tell 'em you saw it on OldHouses.com!
Grey Towers
Grey Towers, located in Milford, Pennsylvania, was originally the summer estate of the James Pinchot family and later the primary home of Gifford Pinchot, America's first forester and founder of the USDA Forest Service.
Grey Towers was built in 1886 by James and Mary Pinchot as a summer retreat. It was James who first recognized the reckless destruction of natural resources that was overtaking the nation in the 19th century. James encouraged his eldest son Gifford to consider a career in forestry, thus introducing the idea of conservation to America.
Gifford Pinchot went on to establish and serve as the first Chief of the US Forest Service, and he was twice elected Governor of Pennsylvania. Between family, friends and political associates, Grey Towers was always bustling with activity and was central to advancing the Pinchots' social, political and conservation ideals. In 1963 the Pinchot family donated Grey Towers and its surrounding 102 acres to the US Forest Service.

Archived in December, 2015
Comments & Feedback