From The Archives
Operating Bed and Breakfast
Rentable Venue
1912 Stone Home
290 Macon Ave
Asheville, North Carolina 28804
Grove Park Inn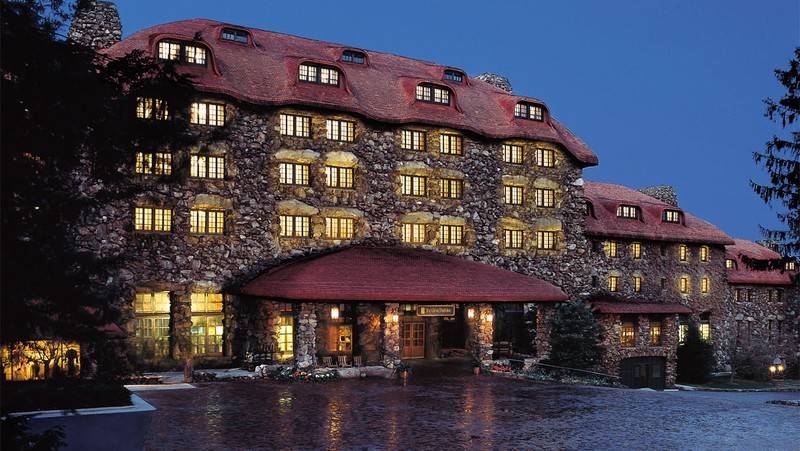 With a history of serving guests for over 102 years, The Omni Grove Park Inn welcomes you with a tradition of Southern hospitality, rich heritage, and all the conveniences a modern traveler requires. Plan your next vacation to relax in our award-winning subterranean Spa, play a round on our Donald Ross designed golf course, and dine in one of our four locally sourced restaurants. Enjoy a vast array of art galleries, local craft breweries, and tons of venues for the performing arts here in the mountains of Asheville, North Carolina.
Scroll down below the map for more information
Like This Listing?
Contact Information:
The Omni Grove Park Inn
290 Macon Avenue
Asheville, North Carolina 28804
Phone: 800-438-5800
Tell 'em you saw it on OldHouses.com!
History
Edwin Wiley Grove, known as the "Father of Modern Asheville" was born in 1850 on a small farm in Tennessee. After serving in the Civil War he had a very definite plan for his life and career – the pharmaceutical business and the determination to rise from his early poverty to great wealth and success.

He purchased a pharmacy in Paris, Tennessee in his mid-twenties. He put all of his energy into formulating a tasteless quinine to prevent malaria, a life-threatening disease that permeated the South in the 19th century. After experimenting for several years, Grove introduced Grove's Tasteless Chill Tonic and experienced immediate success. In the late 1890's Grove's Tasteless Chill Tonic, which had become a household staple, sold more bottles than Coca-Cola. After 20 years on the market, Grove had sold over 1.5 million bottles of his Tonic and surpassed his dreams by making millions of dollars.

Grove himself was often ill, afflicted with periods of bronchitis and exhaustion and his doctors recommended the clean mountain air of Asheville, NC to relax and recover. He spent time in Asheville throughout the year and that is where he would realize his next big dream.

While pursuing new pharmaceutical inventions, Grove met Fred Seely in Detroit, who was making a name for himself in the pharmaceutical business. While working together in Detroit, the two sparked a friendship and mutual admiration. Grove invited Seely to his summer home in Asheville. One week later he left his position in Detroit to work for Grove and his Paris Medicine Company. But business was not the only thing that interested Seely. When Grove introduced his daughter, Evelyn, to the bachelor, within 24 hours Grove had given Seely permission to wed her.

Seely began working for the Paris Medicine Company in June 1898 and in October of that year married Evelyn. Both men ventured into other businesses including real estate. In Asheville Grove began purchasing property, he had successfully developed residential neighborhoods in Atlanta and was considering doing the same in prospering Asheville. With the expansion of the railroad and publicity surrounding the opening of George Vanderbilt's Biltmore House, Grove was positioning himself as a serious investor in the future of Asheville. In 1909 Grove purchased 408 acres in north Asheville, including what would become The Grove Park Inn. But he would concentrate on residential neighborhoods before ever considering building a hotel.

Two years later Grove began to plan the building of a hotel on Sunset Mountain. In 1911, Seely became involved with the plans. After reviewing the plans of several prominent architects, Grove did not find any of them satisfactory. The consummate visionary, Seely presented a sketch of the proposed hotel to Grove and he not only accepted the plan but gave Seely the enormous task of building the hotel.

Four-hundred men worked 10-hour shifts six days a week. With only the use of mules, wagons and ropes, granite boulders, some weighing as much as 10,000 pounds, were hauled from Sunset Mountain to build the hotel. Seely kept his promise to be open for business in less than one year from the ground breaking.

Just three days shy of one year, The Grove Park Inn opened on July 12, 1913. Secretary of State, William Jennings Bryan, delivered the keynote address to four hundred of the most distinguished men of the South, gathered for the opening banquet. He had no idea of how true his words would become when he proclaimed that The Grove Park Inn "was built for the ages".

To learn more about the history of The Omni Grove Park Inn, we invite you to take part in our guided history tour and purchase a history book from one of our retail stores.

Property Details
FITNESS AND LEISURE

18-hole Donald Ross designed golf course
Six tennis courts (three indoor, three outdoor)
Indoor and outdoor pools
43,000 square-foot Spa
Sports Complex
Guided History Tours
Kid's Programs & Camps
Aerobics, yoga, racquetball and health and wellness programs
Sunset Trail


GUEST SERVICES

The Power of One ® - Excellence in Service
Babysitting
Concierge
Housekeeping service
Laundry and dry cleaning
Multiple dining outlets
On-property shuttle service
Retail shops
Valet and garage parking
WiFi Internet service



Archived in December, 2015
Comments & Feedback