From The Archives
1912 Storefront
Frank Peacock Building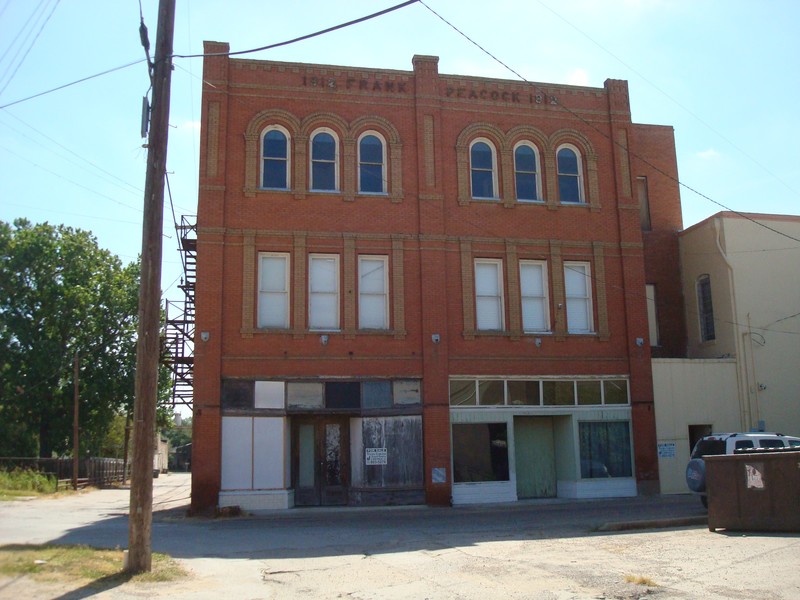 Front of Building
Under Restoration by Seller.
This versatile old storefront can be used as commercial or residential.
Scroll down for more information
Like This Listing?
Too late! See my Active listings.
Contact Information
Twin Lakes Ranch Realty
Irene Zapalac
Phone: 254-803-5276
Mobile: 254-422-3351
Fax: 254-883-5277
landforsale@ctwa.com
Tell 'em you saw it on OldHouses.com!
Peacock Building Information
This 1912 building is under renovation. Seller has put in a 300 AMP service panel with new wiring to all parts of the building. The plumbing has also been replaced. Seller had installed a new Polar Hide Epoxy roof. The first floor has two areas with street access for any type business you might want. One room has the original tile floor, plumbed area for a restroom and a display case. The other room could be a garage. The second floor has a new bathroom with stylish vanity and claw foot tub. There is a tankless water heater, living/dining area and a large kitchen which the Seller is still working on. It has all electrical and plumbing in place and the start of Ikea cabinets. This floor also has several rooms and restrooms that need to be completed. The third floor has several rooms also that can be finished to whatever your needs are. There are Heart of Pine floors through out. Seller is leaving a lot of materials that have already been purchased to work on the building.
There is a 40' x 32' parking lot on the North side of the building that is available if needed for $6,500.00.
I found this information about the Frank Peacock Building that is interesting: "Marlin's only 3 story building in the 1912 business district is still standing in 1985, the Frank Peacock Building. Prospering from a saloon and bottling works, Peacock built his 1912 building as a business venture, intending to rent out office space. Used by WPA after WW1 and a barber shop was downstairs.
Archived in August, 2016
Comments & Feedback