For Sale
c. 1879 Colonial
144 Hillside Road Rd
Chester Township, New Jersey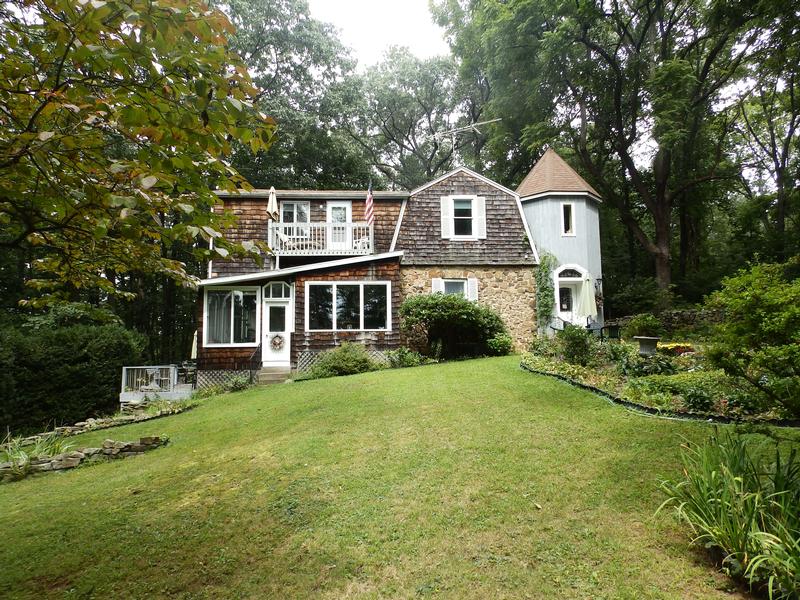 ***************
THIS IS NOW A REALLY RARE BARGAIN FOR ALL THAT IS OFFERED...
This is a very hard home to describe. It is not a bungalow, ranch or colonial. It has a hip roof. But it was never envisioned before-hand; it just came to be--evolving over the decades with our lives- and it looks and feels like no other. You really have to come and experience it yourself to see how endearing it is!
Scroll down for more information | | |
| --- | --- |
| Bedrooms | 3 |
| Full Baths | 2 |
| Half Baths | 0 |
| Heated Sq. Ft. | 2,550 |
| Stories | 2.0 |
| Acres | 1.8 |
Lot Size
403'x175' (plus 300'x25', drive,)
Features.
1st Floor Bath
1st Floor Bedroom
Attic
Basement
Den
Dining room
Dry Basement
Foyer
Galley Kitchen
Laundry Room
Library
Living room
Study
Sunroom
Utility Room
Master bedroom upstairs
Carport
Circular driveway
Driveway - Dirt
Fresh paint
Garden
5 Outbuildings
Patio
Pond
Porch
Rear Deck
Storage Building
Storm Windows
Detached Workshop
Built-in Bookcases
Built-in Cabinets
Ceiling Fans
Ceramic Tile
2 Fireplaces
High Ceilings
Wood floors
Shingle Roof: Asphalt shingle
Dishwasher
Oil Heating
Range
Refrigerator
Septic Tank
Water Heater - Electric
11-foot Ceilings
Hand-hewn Beams
Sleeping Porch
5 fire extinguishers
Balcony w/ Teak Lounge
Cedar shakes on addtions
Chairlift
Dryer, front loading
Newish, 1000 Gal. septic tank
Orig. stone structure/inside & out
Washer, front-loading
Well water.newish pump
Wooded lot
Like This Listing?
Contact the Agent directly.
Keller Williams Town Square Realty
Roselynd Hughes
Phone: (908) 507-3260
roselyndhughes@gmail.com
Tell 'em you saw it on OldHouses.com!
THIS IS A CUSTOM-MADE HOUSE, WRAPPED AROUND AN 1879 STONE CORE...
...... This is a really a very hard house to describe- because we couldn't envision it until we actually built it. 61 YEARS AGO, WITH YOUTHFUL FERVOR AND N0T MUCH MONEY, WE BEGAN TO BUILD AROUND THE OLD STONE CORE (1879) WE HAD ACQUIRED IN 1953. For many years we struggled without the space we needed, but it was more than a decade until 1961, when we could afford the first addition, and then, every 10-15 years we'd do it again!
....... THAT IS WHY ALTHO THE STONE CORE IS FROM 1879, THE REST OF THE HOUSE IS REALLY FAIRLY NEW:
THE LAST THREE ADDITIONS DONE IN 1990, 1991. AND 2008-09, THE 2 MASTER BEDROOMS DONE 1975, AND THE EARLIEST ONE (KITCHEN, DR. & BATH), IN 1961.
SO YOU SEE THE HOUSE IS REALLY NOT OLD AT ALL.
....... WE WERE LUCKY TO FIND innovative ARCHITECTS, CONTRACTORS, MATERIALS--AND IT ENDED UP BEING BEING WONDERFUL; when we found we were able to host 5 guests for as long as they liked, we were delirious!
.........There are 11 rooms including the 5 additions described:
Beginning- w/ THE TOWER, w/ its full FOYER (down) & 3000 volume LIBRARY (up); an elegant entrance to the LIVING ROOM. Thence to the DINING ROOM & to the very efficient GALLEY KITCHEN, beyond which is the FULL BATH, with its 2'x6' closet; & finally, on the WEST side, to the glass-enclosed SLEEPING PORCH with its separate entrances to the deck and patio; & to sitting, dining, closets & sleeping area. Here is our guest's favorite haven (as well as our returning students or visiting elders) and for lots more party space.
........The second floor has 5 five rooms, and another full bath; TWO large front BED-ROOMS, A "sitting room" w/ a DEN, a sleeping nook, a FIREPLACE; and an ample OFFICE area. The south bedroom has a pleasant BALCONY, with a teak lounge. The ample LIBRARY holds at least 3000 volumes and has 4 desk areas. 10 of the 16 large closets in the house are upstairs.
........The BASEMENT has a finished LAUNDRY/CRAFT area, a new "on-demand" water heater, and a partly finished FURNACE room, housing the oil tank and ample storage.

........The house is sited two thirds of the way of the almost 2-acres, 1.8, (1.796) with 2 small storage buildings behind it, and 3 more adjacent to the carport. 2 of them are for storage: (4'x6') & (10'x16'), but the 3rd. is a gallery for an artist, writer, painter, potter, or small pop-up shop. It has heating, electricity, and water is available.

.......The 3-bay Carport has 72' running feet of shelving, 5 high, with curtains for privacy, along the three walls. The roof has been tested with over 28 " of snow and is fine. This is great place for car repairs, a garage sale, a picnic or a party !

......AND ALL THE WAY- WE HAVE RENOVATED, REPAIRED
AND RENEWED WHATEVER NEEDED TO BE UPDATED- SO THE HOUSE IS IN GREAT SHAPE AND EASY TO TO MAINTAIN, BESIDES BEING ECONOMICAL.
That's the bottom line.
*******
........ Now I'm going to tell you WHAT we did and Why it would be as rewarding for the next owners. Because all those years when we had no decent bed-rooms, no space to entertain, not even a kitchen--we were hating the lacks, but we were dreaming up each addition, so having the house evolve as we and our lives did, had a lot to do with each section being so successful, despite that we couldn't really imagine each one until it came into being. And it is still a work in progress. You really have to come and experience it so you can imagine what you would do with it.
(Look at the small first picture of the 2- story stone lodge and imagine what I've just described. It's impossible. We couldn't see it either. )
........I've told you how it was so cramped before we were able to build the first addition- (DR, KIT. and full bath). That was a LUXURY! So we were overjoyed when it was finished, a few days until Christmas. We set up a bare tree in the the new DR and let our guests (which included our employees) decorate it. Meanwhile, Fred came from NYC with a carload of Great Deli food, and all the presents he could buy, -which brought smiles to the tired faces- and how happy they were, (so famished- I could hardly get the food out on the table) while our Pianist friend played Xmas songs on our old upright & we all sang our hearts out in thankfulness!
..... But by the '70s, we were fretting again. We needed a place to entertain and thought of the west side of the new addition. Parties were on our horizon, so we persuaded one of our outlier contractors to listen to our crazy scheme. He built a 3' cement foundation 11' x 30', and installed, at about the middle of the house, 3 elegant steps to the Dining room door. Then we filled the foundation with packing peanuts for insulation, put down on top of it -1/1/2' feet of gravel,-covered it all with straw rugs and summer furniture, and VIOLA, we had a new place for fun!. We celebrated every holiday of the year- with food, which we grilled,, and fireworks, games and picture taking etc. The most fun was the time Fred went to the fish market in NYC and brought back 45 lobsters, which were even enough for everybody to have take-homes. We did this for 5 years, had lovely times and never even suspected what it would lead to.
....... By 1975 a lucky legacy let us take advantage of that foundation! We found a wonderful contractor & his son, Richard Ginder, who innovatively used it to support steel columns around the outside, and then to support an area 22'x22', with 9" joists wide all around, on which to build the area of the two large master bedrooms with their 3 huge closets each, an attic fan, and a balcony. The new roof was perpendicular to the old hip-roof, and Ginder insulated it very securely, going back to cover the old attic as well; then installed a great Attic fan, which switches on whenever the temperature hits 80'. Finally, he laid down a lovely golden oak floor, and I watched him do it ! It was amazing! We now had proper bedrooms, and below- our picnic porch was still usable- but now had a roof!
........The joy I felt at having my very own beautiful room with views of all out doors was tempered some what by several months of mononucleosis, which made me so sick I didn't care where I slept. But life went on; we and our business's grew. We traveled a great deal. I finished my bachelors degree, started a master's degree, and began teaching art- history at a little college in NJ. Fred had bought a lovely showroom in NYC and I had to decorate and supervise that. I was busy.
...... But finally in 1990 some money came along at the same time as we found our neighborhood contractor, Bob H., and his son, who were willing to close in the porch. We were of two minds about that, but we faced a dilemna, about how to arrange for a BR downstairs for a hospital bed for Fred, who was dealing with kidney disease. It was a simple matter to close it in: I wanted glass all round to create a sun-room/ solarium so we didn't lose the vista we had before. At the back, we installed a huge triple closet, for shelves, TV, personals. etc; then we installed A.C. over it. We included a bay window, to show off the Christmas tree, (where the lunch table sits,) and 20' of storage benches on the south and west sides. Later, an elegant deck and a patio would be built and there were entrances for both. Since it was only a few steps to the kitchen and bath, it was ideal.
........But life doesn't work that way. Fred did not need the space then, so it devolved into the most wonderful guest suite we would have wished for. I also used it for a "Pop-up" shop when I sold all my vintage clothes and jewelry. It was great for book club, for tutoring, for a home office, and of course more party space. We had Fred's 92nd B/day party here with 91 guests from all over the country, and lots of food- he loved it. Sadly, we also held his wake here for 45 people after the AirForce service in 2014.
.......Meanwhile, I went on to teach and to finish a second master's degree, which involved going to China because interrogating the directors of the 10 largest museums was part of my thesis. All the years teaching and studying from1966 had me collecting books, but they were now beginning to be a hazard, you could see the floor joists bending in the LR under their weight, so it had to be resolved.The first time I had someone try to nail up one sold me on the idea of a library. But Where?
........ By 1991, our last ingenious contractor had the right idea: a two-story hexagon, 9'x14', right outside our east-facing front door; the downstairs would be an elegant FOYER, the upstairs would be LIBRARY. The walls would be extra-insulated, and the floor joists under the library would be doubled. Three tall slim windows provided plenty of light, and an elegant front door would now open on the south side, where I had wanted it to be. Downstairs, a big cedar-lined closet & 2 smaller ones were installed. Upstairs there would be 4 desks, lots of extensions, & shelves for 3000 books. There was A.C., a ceiling fan with 4 lights, a phone, a ceramic heater, and it was all painted bright yellow- to relieve the heaviness of the covers. Even in the dead of winter it was cozy, and a lovely place for research. [I should note that the shelves were built elsewhere and trucked up here to nail in, but they can be taken out if need for another room arises, and you would gain 1' foot of space all around. ]
......From 2002-2009, our friend JoeZ, came to manage the place. Fred was in and out of the hospital; I held up until he died 2014, then I became ill and suffered 3 strokes. Fortunately I didn't lose my marbles- only my speech.
......But Joe was a whirlwind; soon we had a 3-bay carport,18'x36', that met all the needs, then an elegant Deck, 7'x30', west of the sunroom/guestroom; then a little fountain down in front of that. A Patio evolved then out of the need to renovate the septic system, which involved a new 1000k gallon septic tank, and all the pvc pipes to and from the house and its bathrooms, kitchen, etc. Joe put the 12'x15' Patio over it, and the new generator stands there ready for any new hurricane.
.......Finally, since through the years, things had to be replaced or renovated- so the kitchen was done over 3 times, the baths more than twice; stoves. dishwasher, washer, drier, commodes. vanities, walls (from dry to tile) replaced... There was something going on all the time. But since 2014, most of the last additions have been "store bought": the on-demand water heater, the new firebox for the furnace, the last washer and dryer, the large microwave, refrigerator. But the garden continues to grow and give pleasure, because we have invested so many perennials and bulbs, and decorated shrubs, that it always looks nice.
....... So ends the saga of the house we couldn't describe until after we built it! Please come and see it for yourself.
*********************



IMAGINE WHAT YOU COULD DO YOURSELF?
HAVE YOU EVER THOUGHT OF MAKING YOUR LIVING AT HOME?

There are many opportunities for a home-based business:

(1) First the Library and Office: for an on-line business, for an accountant, writer,
tutor, off-site supplementary office,etc.
THE LIBRARY HAS 4 DESK SURFACES, MULTIPLE ELECTRIC OUTLETS, A,C,
HEAT, CEILING FAN,AND A DOOR THAT CAN BE LOCKED. Also, if you need the
space, the bookcases, which were constructed elsewhere and trucked up here, can be easily removed.

(2) Then the GALLERY, (the biggest outbuilding); perfect for a writer, painter orsculptor- which combines work and storage space. Has electricity & electric- radiator.

(3) The 3-BAY CARPORT; w/ electricity, a sturdy roof, & curtained shelves; for car-repair or a landscaper.

(4) The PORCH-SUN-ROOM with its multiple functions and separate entrances;
for a dressmaker, physchiatrist or other consulting work, a separate office or a
small "niche" POP-UP shop for clothing or accessories.

(5) All 5 out-buildings provide storage and shipping facilities.l

All right here, in a lovely spot, the whole year round!

WHAT DO YOU THINK YOU CAN DO WITH THIS SPACE?

(This is really doable- we had our HOME-OFFICE here & a MINI-SHOWROOM for 20 years after we closed our NYC showroom.)

THINK ABOUT IT!
********


































Comments & Feedback