From The Archives
1902 Late Victorian
Hampton Heights
Spartanburg, South Carolina 29307
The Montgomery House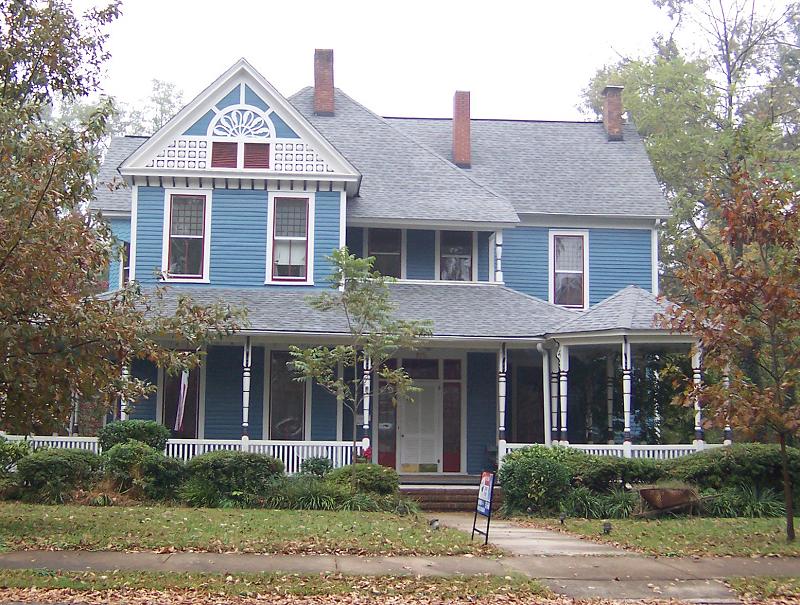 This house was built by Walter S. Montgomery, who lived here until 1911, when he sold it to Mrs. M. E. Vandiver. In 1914 the resident was S. J. Ramage. Then it was purchased by the Levi Moffitt Cecils, who lived here until around 1936-37, when it was purchased by Oren Brady, Sr. The Bradys lived in the house for many years and passed it on to their daughter Mrs. Euna Mae Brady Lowry and her husband John D. Lowry, who lived here until the 1980s.
Scroll down for more information
Single-Family
Bedrooms
5
Full Baths
3
Heated Sq. Ft.
3,300
Unheated Sq. Ft.
2,000
Stories
1.5
Features.
A Painted Lady
1st Floor Bath
1st Floor Bedroom
Attic
Dining room
Finished Basement
Foyer
Kitchen
Living room
Reader's Loft
Master bedroom downstairs
Garden
Porch
Rear Deck
Built-in Cabinets
Ceiling Fans
Fireplaces
Grand staircase
Jacuzzi
Wood floors
Shingle Roof
City sewer
City water supply
Gas heating
Water Heater - Electric
Plaster Walls
Pocket Doors
Sleeping Porch
Widow's Walk
Wrap-Around Porch
No Contact Information.
This listing is archived and is not for sale.
Contact information is not available for archived listings.
Local and Regional Links.
Description/Comments
This remarkable Victorian home at 229 West Hampton Avenue, known locally as the Brady-Lowry House and known nationally as 'The Montgomery House' is the only home in Spartanburg ever selected as a Shelia's Collectable, taking a place along with the most beautiful homes of Charleston, Savannah, Cape May (NJ), San Francisco, and many other cities with outstandingly beautiful Victorian homes. 'The Montgomery House' is a retired collectable (one of four in the 1996 series, "The South Carolina Ladies"), and can be viewed at www.shelias.com/products/product_index.asp (Shelia's Collectables, "The South Carolina Ladies," 'The Montgomery House,' '96-'99, retired). This prestigious honor validates our claim that this beautiful Victorian home at 229 W. Hampton Avenue is The Prettiest House in Spartanburg .

The Montgomery House, in the Hampton Heights neighborhood, a single-family residential historic district, has the perfect balance of historic appeal and modern up-dating: charming Victorian rooms, styling, and amenities but storage space that is generous by contemporary standards, and a large yard with beautiful plantings yet without impossible upkeep.


Improvements
Improvements we made to house since move-in Sept., 1994:

(dates are approximate)

1994
Tore down collapsing garage (no right angles, no roof, not historically restorable).

Fenced back yard.

Electric fence (wire still in ground and along fence)—that's the expensive part.

Filled, graded, and seeded rear side yard that had been filled with chunks of concrete (to the right as you enter the driveway).

Insulated all house walls as well as basement ceiling and both attic floors (white fluffy stuff).

Put down 4 mil vapor barrier to reduce moisture over basement earth.

Graveled drive.

Put in many new grounded outlets and some new light fixtures—roughly three new outlets per room. New chandelier in lower center hall, new fixture in upper hall.

1995
Replaced back porch windows with new, insulated ones.

Attached quarter inch plexi-glass to most of the first floor windows that can be reached and/or broken by an intruder. Attached eighth inch plexi-glass to some exterior doors/windows to protect glass from dog/kid damage.

Added two overhead fixtures to porch (one in gazebo—light/fan, one around the corner).



1996

New furnace and added central air-conditioning, including new ducts in basement.

Installed pull-down stairs to upper attic, installed some flooring, lights and switch.

Repaired ceiling plaster in bedroom (up, center, where wardrobe is) where pull-down stairs are and repainted white.

Build two-level back deck (weather treated and later painted to match house) with benches and build-in seats and ramp (to roll wheel barrows and lawn mowers from basement storage to front yard via side gate). Cut two new doors in house—double French doors to den, single door to kitchen area via back porch. Cut in new double-hung window over drier to new deck—food pass-through. Installed removable poles for decorative party lighting around upper deck.

Deck acts as two-car carport to protect cars from sun and snow.

Repaired and re-hung basement doors for easier access, replacing all locks with same dead-bolt lock on same key (exterior basement, interior basement at foot of stairs, both doors from deck to house, door from back porch to kitchen).

Installed motion detector security lights at three locations.





1997

Installed Jacuzzi with downstairs bath renovation—new sink, counter-top, bead-board wall paneling, added Victorian molding to linen closet and doors, carpet, cut in two high windows on south side for bathroom light, new ceiling.

Re-worked up bath (with shower, part of second "master" suite)—closed door to landing, cut two new doors, one to bedroom in curved wall, second to sleeping porch (which could be a huge closet), opened hidden parts of wall on west wall and ceiling for interesting detail. New sink, toilet, shower stall, window. Added ceiling fan and light, new medicine cabinet. Built and installed linen and storage shelves. Carpet.

Re-worked other bath (up), removing retrofitted shower, new wall paper and paint, new over-head light fixture and mirror light, carpet.

Added extra light fixtures to northeast bedroom (white with fireplace) for high illumination.

Installed ceiling fan/lights in: down bedroom, three of four up bedrooms ('95).



1998

Capped center chimney (no longer needed), and put weather shielding over other two chimneys.

Planted new oak trees to replace those dying along Hampton Ave.

Created downstairs hall to down bath so bath available when bedroom in use. Built additional closet. Created "borrowed light" window for afternoon sun. Added full-length hall mirror. Created carpeted loft over new hall.





1999

Installed new, energy efficient hot-water heater.

Installed non-venting gas logs in living room.

Installed electrical panel and wiring for generator hook-up, built mini generator house painted and shingled to match house, installed generator. Seven circuits on generator for all essential household functions—stove, refrigerator, furnace and hot water, lights in each room, etc.



2000

Renovated kitchen—removed some pine paneling for brighter look, new hand-crafted ash cabinets, custom counter top with oak bull-nose edge, constructed drop-leaf counter-height table for eat-in (with storage area along west wall) including wine rack and storage drawer, replaced ceiling, added track lighting, fluorescent lights, indirect lights, toe-kick lights, ceiling fan/light, installed gas stove and direct-to-outside vent fan, added transom (fixed) to porch for light, new sink and water filter (Pure?) retractable sink spray appliance and soap pump, new dishwasher. Extended kitchen flooring out to porch for continuity and added storage shelving on back porch.



2001

Renovated up master bedroom: installed new sheetrock ceiling, added crown molding (picture molding was there), repaired plaster, painted, replaced sliding closet doors with bi-folds, added Victorian molding and new handles to upper cupboards, put up border paper, installed new blinds.

Raised and replaced tall hall ceiling with sheetrock and re-painted, added crown molding. Replaced small landing ceiling with sheetrock.

Replaced den and down bedroom ceiling with pressed-design Armstrong ceiling.

Restored three working transoms for light and air flow.

Stripped, papered, painted down bedroom, installed new curtain hardware.

Repapered and painted: front hall, middle hall down, living room, dining room. Sheet rocked over paper for upper center hall and painted, new light fixture.

New roof all over, new ¾ inch roof decking, then tar paper and architectural shingles, all new flashing, all new gutters and down-spouts. Cut in new roof-ridge vents throughout (removed noisy and unsightly turban vents).

Installed decorative brass kick plates on front screen and main door.

Whole house pressure-washed, scraped, (partially) sanded, primed, caulked, and repainted in 7 colors

Rebuilt front steps and brick embrasures for safety and appearance.

Installed garden foundation drain (French drain) around front and sides of house for improved garden drainage.

Uncovered formal garden and planted perennials—hosta, hyacinth, lilies, etc. Added decorative trellis.

Bought and painted garden benches for yard.

Re-pointed critical portions of basement interior brick walls.



* * * *



Approximate total dollars spent on improvements, upgrading, additions, etc., (not adjusted for inflation or rise in market): ~ $85,000.

Paid $107,000

Total cash outlay: ~ $ 192,000.

Adjusted for inflation (Sept., 1994 v. Mar., 2003, $100= ~ $120): ~ $ 220,000.

Adjusted for Dow Jones/Standard & Poor's (1994 v. 2003): ~ $ 330,000.
Desktop Wallpaper
Desktop wallpaper for this house is available in the Old House Wallpaper section of OldHouses.com
Comments & Feedback