From The Archives
c. 1880 Victorian: Queen Anne
Ellsworth, Maine
Maine Victorian Queen Anne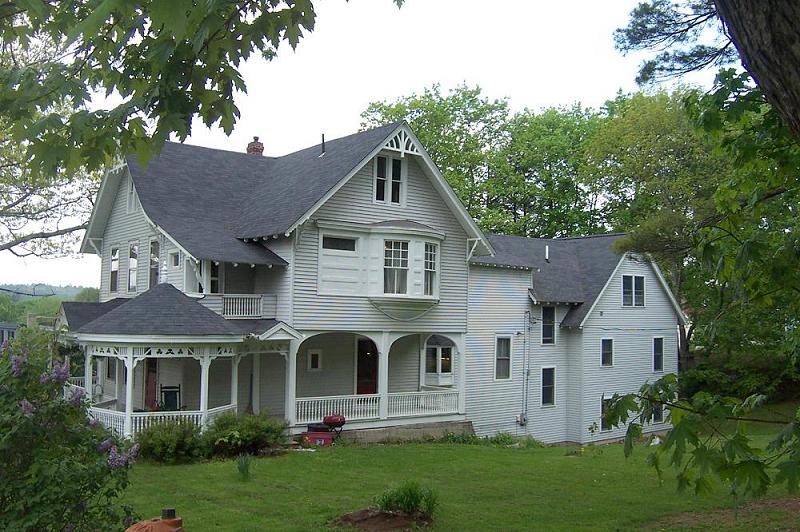 A perfect family home in small town 23 miles from Bar Harbor
Scroll down for more information Features.
1st Floor Bath
1st Floor Bedroom
Attic
Bonus Room
Dining room
Exercise Room
Foyer
Kitchen
Laundry Room
Living room
Unfinished Basement
Master bedroom downstairs
2 Car Garage
Automatic outside lights
Porch
Ceiling Fans
Ceramic Tile
Fireplaces
Original wood windows
Walk-In Closets
Wood floors
City sewer
City water supply
Dishwasher
Disposal
Oil Heating
Range
Refrigerator
Water Heater - Electric
Cast Iron Radiators
Claw-foot Tub(s)
Wrap-Around Porch
Bay windows
Bow windows
Parquet floors
Three balconies
No Contact Information.
This listing is archived and is not for sale.
Contact information is not available for archived listings.
Looking for the perfect family!
This Queen Anne Victorian sits on a hill in a town of 5000 people. The area has great school systems and low crime rate. Ellsworth is 23 miles to Bar Harbor and 23 miles to Bangor. The original part of the house was built near the turn of the century, and the back part of the house is an addition built in 1996. The master suite has a bedroom, sitting room with pellet stove, big bathroom with large claw-foot tub, a built-in sink and pedestal sink and shower stall, and a huge 9 x 11.5 foot walk-in closet with 2 walls of hanging rods and a third wall of shelves. The location of the master suite provides privacy for the parents, while the children can enjoy their bedrooms on the second floor in the front part of the house. An L-shaped room on the 2nd floor can be a small bedroom or sewing room. The 3-room attic is finished.
The 15 x 30 room over the master suite contains the laundry area on one end and is used currently for an exercise room on the other end, although it is truly a bonus room and is versatile. This room has storage under the eaves going the full 30 foot length of the room. On this floor, there are 3 other bedrooms plus a full bath.
The kitchen has an eat-in area on the east side. Eat breakfast while you enjoy the sunrise, and view the gorgeous sunsets from the kitchen sink. The kitchen has tin ceiling, 30 feet of tile counter, and leaded glass door cabinets on the east side.
There is a 2-car heated garage. There are 6 ceiling fans in the house for cooling and to help distribute heat.
Although the house could be used as a B&B or as a home with mother-in-law apartment, it is the perfect layout for a family with older kids who need their own space. Set up for cable or DSL internet and Wi-Fi capabilities so you can enjoy the porch with your laptop.
The Interview
Saturday, June 03, 2006

They sometimes call houses like this Victorian Painted Ladies. Especially for families who live for years in a house like this one, the structure seems to lose its inanimate quality and becomes almost human with quite complex emotions. I imagine if she could be interviewed, the write-up would be something like this:

Today, we focus on the downside of dating after 40, specifically on finding that special long-term relationship. We are fortunate to be able to interview an older Ellsworth resident, Victorian Lady, who knows too well the hazards of finding that special someone.

She is an elegant lady who looks younger than her purported age of over 100 years. She is dressed to the nines, but as she removes her dainty white gloves, her hands bespeak her true age. She looks intently at me and sighs.

"I'm honored to be here. Of course, at my age, I'm honored to be anywhere! I believe that's an old George Burns joke. So, tell me, what do you want to know?"

I look into those aged but bright eyes - the windows to the soul. What things they have seen!

I clear my throat. "Victorian Lady," I begin, "exactly how hard is it to begin dating again at your age?"

"Oh my," she replies. "It's extremely hard. I feel like a Sophia Loren competing against the Paris Hiltons. There are so many eligible ladies out there these days, vying for just a few special available people. The trouble is that someone will agree to date me, but it ends up being just that; a date. I have yet to find that long-term relationship, the commitment, that I need so desperately."

"Why is that, do you think, Madame?", I inquire.

She pauses to consider this, then smiles a poignant smile. "I think that the people I meet assume I am a high-maintenance kind of gal. Well, in a way, that is true, of course. I sag in places, other places could use a day at the spa. Body parts don't last forever, you know, and I have actually had to have replacement surgeries! But they can do wonders these days with that!" She pauses. "I'll bet you can't even tell my porch has been rebuilt, can you? The wonders of medical renovation!" I can tell she is proud of her upkeep.

I know I have to ask, but all the same, it is uncomfortable raising the delicate subject. "Madame, I hear comments that....well...your size may be working against you. Do you think, as some have said, that you're just too big?"

She draws herself up to look every inch the Grande Dame. "Sir," she replies. "Some people actually prefer the larger woman. We have more to love."

I can't help but grin. "What exactly are you looking for in a mate, Madame?"

Her eyes get misty. "Oh, I'm flexible on that, but I have my desires, of course. I want someone who loves and appreciates me for what I am - an old lady, but with the charm and charisma you don't find in the younger girls these days. I want someone who realizes that under this prim and proper exterior, there is an adventurous soul. Nothing can shock me. The things I've seen would make your hair curl!"

She continues. "My true desire is to find a family to love me. Of course, I am multifaceted and have the potential to be lots of things to someone. I learn quickly and easily and could master the art of a Bed and Breakfast overnight."

She sighs again. "I'm not some old stuffy Victorian Lady who can't have a little fun. I'm not stuck in the 1800s, for heaven's sake."

She leans closer. "Do you know I have high-speed Internet and Wi-Fi? Some of the younger girls can't even get that! And my washer and dryer are digital top-of-the-line. My garage doors open by remote control, too." She takes her voice down a notch. "But they don't open for just anyone," she whispers. "I have to give you the special remote. It's my equivalent of giving you my unlisted phone number." She smiles.

She looks at her clock. "Oh dear," she says with a frown. "You'll have to go now. It's time for my weekly haircut." I look at her broad expanse of lovely green hair, which displays the beautiful flowers she enjoys wearing. "Ed, my hairdresser, tries to keep me looking groomed. Even so, I occasionally have those bad hair days! But don't we all?" She laughs a remarkable laugh that speaks of many years of love, caring, and wisdom.

"Good luck, Madame," I say as I depart. "I dare say your special someone is right around the corner." She nods wistfully, and plucks a day lily out of her hair to give me. "Just a remembrance of our visit," she says.

As I drive away, I take one look back. She stands tall and proud with a little furrow in her brow, squinting down the horizon, still looking for her soul mate. Someone special will be fortunate, indeed. I hope it's soon.


Other information
Comments & Feedback