Style Guide Navigator
Romantic Styles
Resource Navigator
House Style Guide
Find Historic Homes for Sale
Selling An Old House?
Your Feedback
Mailing List
Early National and Romantic House Styles
Examples · Links · Books · Listings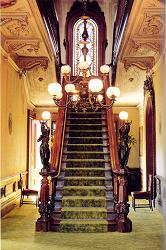 The Romantic Style (1820-1880) of American houses grew in popularity in a time when the U.S. was attempting to break free from English culture and looked to the ancient world for architectural inspiration. While architects like Thomas Jefferson gained influence from Rome designing Early Classical and Colonial Revival styles, other American architects delved even deeper in to the past of ancient Greece, the "mother of all democracies". This inspired the Greek Revival Style which dominated America's commercial and residential building types from about 1830 until 1850. In the 1840s, another fashionable Renaissance style arose which was primarily influenced by the cathedrals, castles, and manor houses of the Middle Ages; the Gothic Revival style. The final Romantic House Style, Italianate, also borrowed from Renaissance designs with Italian farmhouse influences combined with Americanized doors, windows, and decorations.
Types of Early National and Romantic Styles include: Gothic Revival, Greek Revival, and Italianate
Early National and Romantic Examples
Identifying Features
Greek Revival:
Pedimented Gable covering entry supported by columns
Symmetrical Shape
Bold and Simple Moldings
Decorative Pilasters
Gothic Revival:
Steeply Pitched Roof
Grouped Chimneys
Pinnacles, Battlements, and shaped Parapets
Quatrefoil and Clover Shaped Windows
Oriel Windows
Asymmetrical Floor Plan
Italianate:
Pedimented Gables
Asymmetrical Floor Plan
Bold and Simple Moldings
Decorative Pilasters
| | |
| --- | --- |
| Greek Revival Style | Greek Revival Style |
| Gothic Revival Style | Italianate Style |
Early National and Romantic Links
Early National and Romantic House Books
Archived Early National and Romantic Example Listings
View Active Early National and Romantic Houses For Sale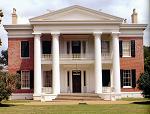 From The Archives
Old House Museum
Melrose
circa 1845 Greek Revival
View Details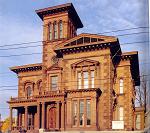 From The Archives
Old House Museum
Victoria Mansion
circa 1860 Italianate
View Details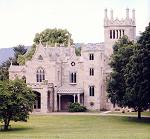 From The Archives
Old House Museum
Lyndhurst
circa 1838 Gothic Revival
View Details