Style Guide Navigator
Modern Styles
Resource Navigator
House Style Guide
Find Historic Homes for Sale
Selling An Old House?
Your Feedback
Mailing List
Modern House Styles
Examples · Links · Books · Listings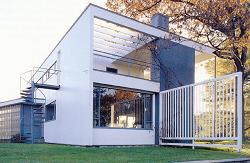 Most Modern (1900-1950) house styles of American architecture include familiar and very popular architects. This list includes Frank Lloyd Wright, Le Corbusier (Charles-Edouard Jeanneret), Charles and Henry Greene, Mies van der Rohe, and Walter Gropius just to name a few. There is no question that the styles of houses these architects designed were completely different from each. What they did have in common was an attempt to design inexpensive housing that was not only eye-pleasing and functional but could be built quickly to keep up with the fast paced affects of the industrial revolution.
Types of Modern Styles include: Prairie, Arts & Crafts (Craftsman), International, Art Moderne, Art Deco, and Ranch
See the Arts & Crafts (Craftsman) and Bungalow pages for more examples
Modern Examples
Identifying Features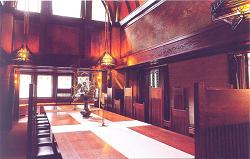 Prairie Style
Low-pitched roof, usually hipped and with widely overhanging eaves
Detailing emphasizes horizontal lines
Massive square porch supports
Arts & Crafts (Craftsman) Style:
Low-pitched gabled roof with wide, unenclosed eave overhang
Roof rafters usually exposed
Decorative beams or braces under gables
Porch support bases extending to ground level
Porch supports usually squared and sometimes slanting inward
International Style:
Flat Roof
Windows usually metal casements set flush with outer walls
No decorative detailing at doors or windows
Smooth, Unornamented wall surface
Asymmetrical Facade
Ranch Style:
Single Story
Horizontal, rambling layout: Long, narrow, and low to the ground
Rectangular, L-shaped, or U-shaped design
Simple floor-plans
| | |
| --- | --- |
| Prairie Style | Prairie Style |
| International Style | Ranch Style |
| | Arts & Crafts (Craftsman) Bungalow Style |
| | California Bungalow Style |
Modern Links
Modern House Books
Archived Modern Example Listings
View Active Modern Houses For Sale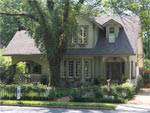 From The Archives
2004 Local Historic District Highlight Honorable Mention
1920 Craftsman Bungalow
1910 Sq. Ft.
View Details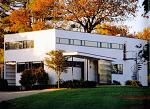 From The Archives
Gropius House
1937 International
View Details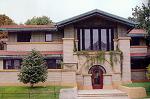 From The Archives
Old House Museum
Dana-Thomas House
circa 1903 Prairie Style
View Details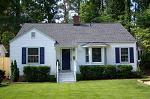 From The Archives
Modern Elegance
1947 Ranch
1200 Sq. Ft.
View Details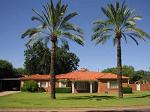 From The Archives
Historic District Gem
1940 Ranch
2328 Sq. Ft.
View Details