Resource Navigator
Of Interest
Find Historic Homes for Sale
Selling An Old House?
Your Feedback
Mailing List
Old House Resources of Interest
We're building an extensive database of old house resources. Want the old house community to know about your old-house business, service or organization? Submit Your Resource to OldHouses.com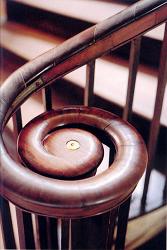 Our Favorites
Our friends at hometalk.com created this 'love letter to you brave and determined Hometalkers, who heeded the noble call with your hammer, nails, and paint to breathe life back into these beautiful historic homes.' Enjoy!
This website contains tutorials and plenty of articles about historic home repair, style and life. It's geared toward empowering and teaching homeowners how to care for and maintain their historic homes.
This Old House Online is your source for expert advice on home improvement, remodeling and decorating. Ideas on everything from kitchen and bath to yard and garden. From America's first and favorite home improvement series.
How-To and Reference
Architectural Metalwork Care & Maintenance Guides - These guides aim to help homeowners understand the nature and requirements of caring for historic metalwork.
Passionate about the preservation of historic architectural iron and metalwork these helpful guides describe maintenance plans for all types of architectural and ornamental metalwork that you may be responsible for the care of, including leaded lights and stained glass, metal casement windows, rainwater systems and wrought or cast iron gates railings and balconies.
Calfinder Home Improvement Blog - CalFinder's Home Improvement Blog is an excellent resource for homeowners interested in doing all types of work on their house.
Convenient Old House - The Convenient Old House is about making sympathetic changes to accommodate modern living but without destroying historic character.
The Lost Arts Collaborative - The Lost Arts Collaborative is a preservation organization that assists lost arts practitioners, artisans and groups with web based collaborative platform (portal) that allows the community members to create courses, manage projects and aggregate community knowledge.
Old House Chronicle web archive - filled with great How-To articles and project stories for old houses.
OldHouseGuy.com - restoration stories and advice from someone who's done plenty of them..
Homescape Improvement - deals with all of the issues of owning, decorating and creating a home.
HandyAmerican.com - Home improvement articles and advice. Also matches consumers with professional home improvement and remodeling contractors.
The Natural Handyman - The Natural Handyman is a feast of home repair help, humor and encouragement with hundreds of unique articles, links, local handyman directory, contests and FREE newsletter!
World of Old Houses - Everything about old houses! This is where to find help in restoring, renovating or maintaining your old house, heritage building or other example of traditional architecture. This site features world wide suppliers and services, trade secrets, books, and research information.
Eye Candy
victorianhouses.tumblr.com - Like Victorians? Feast your eyes.
National Resources of Interest
Ancanthus Press - We publish books on old houses in different regions and our books provide social as well as architectural history. Our monographs on individual architects are more broadly based, but cover old houses as well. Our primary area of interest is 1870-1950 in America. We are always looking for authors for new publications on residential architecture in America.
Cindy's List for Researching House and Building Histories - Are you interested in learning about the history of a home but do not know where to start? Cindy's List of informative resources will help you get started.
Clem Labine's Traditional building - provides resources for commercial, civic, institutional, and religious building projects.
Great Buildings Online - Architecture around the world and across history, in an online multimedia encyclopedia of world architecture, documenting 1200 buildings and architects from around the world and across history with text, photos, and live 3D models.
Hooked on Houses - Hooked on Houses is a very popular house blog, ranked in the top 100 Wordpress blogs.
Landmark Services Blog – Blog focusing on general contractors specializing in restorations, renovations, and additions to historic New England houses, barns, and churches.
Multi Fuel Stoves - Website and blogs dedicated to supporting both multi fuel stove owners and those looking to learn more about it.
Oak Park Home and Hardware - Oak Park Home & Hardware specializes in lighting products in the spirit of Arts & Crafts, Mission, Prairie, Bungalow, English Tudor, Tudor Manor, and Spanish Revival styles. This is a link to their blog site.
Old House Gardens - This site is filled with wonderful gardening advice and information. They also have catalog with a great selection of flowers and other garden related items to order.
Old House Guy - An educational resource to help preserve the historic character of old homes. The website cautions homeowners and provides information old house owners must be aware of before making any changes to their home that can harm its historic integrity. It explains that curb-appeal can be better achieved when based on aesthetics and architectural principals, not personal taste.
Old House Tours – An oldhouses.com favorite! Follow John Werry as he travels across the US discovering beautiful historic homes. John documents his travels by photo and video and encourages fellow historic home lovers to send in their own pictures of their favorite old houses.
Old House Web - The most comprehensive list of suppliers and services for your old house preservation needs.
Planning Commissioners Journal - Planning for historic preservation has evolved far beyond saving the homes of famous people. It now involves the revitalization of historic downtowns, as well as commercial, residential, and even industrial districts. This special 20 page issue of the Planning Commissioners Journal -- the nation's leading publication for "citizen planners" -- takes a look at the basics of planning for historic preservation. Included in the issue: an introduction to historic preservation planning; how historic preservation is integral to the principles of "smart growth;" frequently asked questions about historic preservation ordinances; and an overview of the effects of historic district zoning on tourism, job creation, and property values.
Remodeling Directory - Your one-stop destination for anything you can think about remodeling. This Remodeling Directory is designed to help its users find the remodeling information, articles, source, companies, products and services.
Restoration Exchange - A meeting place for historic preservationists with articles, online communities, and historical society and association information.
Save the Bungalows - Save The Bungalows is a political advocacy and education group that is working to save early 20th century housing in Houston, Texas. As well as pressing for changes in policies and laws that currently make neighborhood preservation almost impossible, we seek to educate people about the rewards of renovation and restoration.
Society of Architectural Historians - The Society of Architectural Historians is an international not-for-profit membership organization that promotes the study and preservation of the built
Stephen B. Chambers Architects, Inc. - Have case studies of historic restoration projects and reusing the "embodied energy" of older and historic homes to create 'green'/sustainable residential architecture.
The Arts & Crafts Society - In the spirit of the societies created during the early 20th century in response to the Arts & Crafts Movement, this site has been created to provide an online "home" for the present-day Arts & Crafts Movement community. If you aren't sure what the Arts & Crafts Movement is/was, check out their Archives for more information
The Fine Arts Conservancy - Conservation and Restoration of the fine & decorative arts and furniture conservation & restoration, museum framing, collection management, insurance claims and art appraisals.
This Old House - This blog documents the different architectural features of this 1930's mansion in San Juan in the Philippines, just outside Manila. It includes many photographs by the author, as well as updates on current household projects and stories that are related to this grand old home and the bloggers life in general.
Tin Roofing Blog - Blog for saving vintage standing seam roofing, embossed tin shingles and copper roofing.
Victorian Home Blog Site - serves as a resource for Realtors, home buyers, and home sellers. Victorian Home Blog brings tips for buying, selling, and maintaining Victorian style homes.
International Resources of Interest
BuyProperty4Less - Property Investment Made Simple. BuyProperty4Less are the UK's leading Property Investment consultancy.
Property Friend - Created to help guide you through the ever changing UK property market.
Local/Regional Resources of Interest
New Jersey
Alloway History/Community News & Events Sharing Group - Dedicated to preserving the historical past of Alloway.
New York
NY State Parks Resident Curator Program Invest in rehabilitation/renovation and maintenance of historic properties in exchange for a long-term single-family residence lease as a Resident Curator. Review NY State's Office of Parks, Recreation, and Historic Preservation's "Business Opportunities" for details on available residences, proposal submission process, and general program through posted Request for Proposals (RFP).
Oregon
Alameda Old House History - A place to share knowledge, tools and observations on appreciating the life of old houses in Northeast Portland, Oregon.
Pennsylvania
Academy of Building Conservation - Start up to utilize our wealth of old buildings needing care and attention to teach time-honored crafts and energy upgrades, enhance vocational opportunities, and foster pride in self, work and community.
South Carolina
Gullah Tours - Gullah - The language spoken by the Lowcountry's first black inhabitants. The language and culture still thrive today in and around the Charleston/Beaufort, South Carolina region. Gullah Tours explores the places, history, and stories that are relevant to the rich and varied contributions made by Black Charlestonians.
Virginia
Old Virginia Houses - A website designed to preserve information on old homes in Virginia and the early families who lived in them.
Please contact us about your local or regional old-house related site.