Find Historic Homes for Sale
Selling An Old House?
Your Feedback
Mailing List
Old House Agents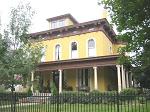 Looking for your dream house and don't see it in our active listings? Find an agent specializing in old houses in your state below.
Agents, want to get on the list? Just upgrade your OldHouses.com account status to agent and create your agent profile in Your Account.
Click on a state to see agents based there.
Show ALL Agents