Modern Comfort - Victorian Charm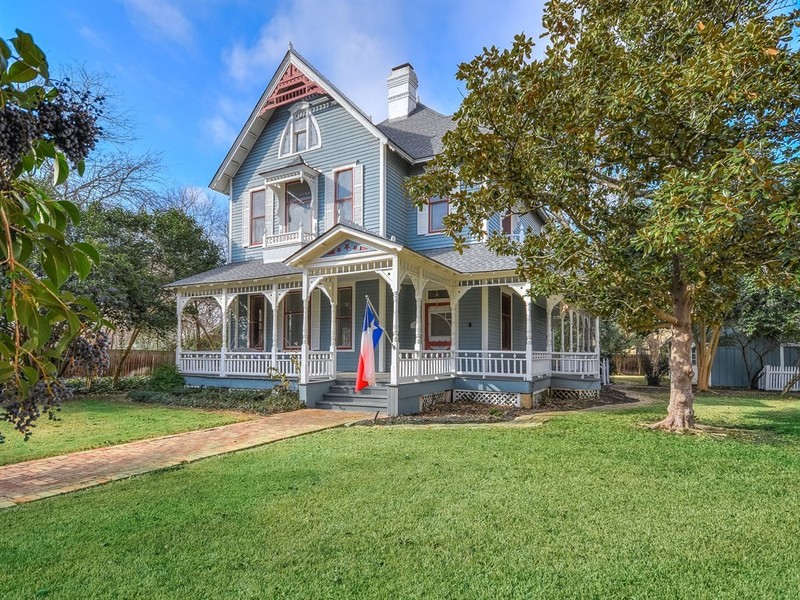 This lovely 1895 Victorian home is a treasure, waiting to be discovered by its new owners.
Scroll down for more information
| | |
| --- | --- |
| Bedrooms | 4 |
| Full Baths | 4 |
| Half Baths | 2 |
| Heated Sq. Ft. | 4,312 |
| Stories | 3.0 |
| Acres | 0.5 |
Features.
1st Floor Laundry Room
Breakfast Room
Den
Dining room
Entry Hall
Living room
Study
Sunroom
Master bedroom upstairs
2 Car Garage
Fenced Yard
Fresh paint
Garden
Gazebo
Porch
Sprinkler System
2nd Staircase
Built-in Bookcases
Built-in Cabinets
Ceiling Fans
Ceramic Tile
6 Fireplaces
Gas Logs
Grand staircase
High Ceilings
Natural gas fireplace
Original wood windows
Asphalt shingle Roof
Wood floors
Shingle Roof: Asphalt shingle
Tin Roof
Central air
City sewer
City water supply
Dishwasher
Disposal
Gas heating
Range
Sprinkler System
Water Heater - Gas
12-foot Ceilings
Claw-foot Tub(s)
Pocket Doors
Stained Glass Windows
Transoms
Wrap Around Porch
Like This Listing?
Agent Contact Information
Thank you for your interest. Please contact me for your private showing!
Lauren Powell
Phone: 512-695-0679
lauren.powell@sothebysrealty.com
Tell 'em you saw it on OldHouses.com!
More About This House
A gracious wrap around porch and 19th-century charm welcomes you to this historic landmark in the heart of Georgetown, TX. Resting on nearly 1/2 acre, this lovely 1895 Victorian home is a treasure waiting to be discovered by its new owners. Grand rooms with soaring ceilings, elegant staircases, original hardwood flooring, transoms and stained glass windows, intricate moldings and individually designed fireplaces exemplify an era of fine quality craftsmanship and architectural details. All the modern convenience in a perfect location close to the Georgetown square which offers all the shopping and dining one could ask for. Southwestern University moments away. Quick 30 minute drive to Austin. Awesome opportunity for bed and breakfast. Pre-inspected!

To see more: 1404southelm.com
History
THE HENRY W. HARRELL HOME,
1404 Elm St - Georgetown, Texas.
Historical Narrative by Clara (Mrs. Don) Scarbrough - - -


The residence of Henry W. Harrell and his family is built on land which was patented by the Republic of Texas to Clement Stubblefield, Patent No. 204, Vol. 2, dated Aug. 19, 1844. [1] This was 1/3 League, and, was purchased by Thomas B. Huling on Oct. 10, 1848, for $150. Huling and G. W. Glasscock had a partnership in real estate dealings, and through several trans­actions Glasscock became the sole owner of the section on which the Harrell, home was located, Glasscock completing this contract with Huling on March 4, 1851. [2] On April 27, 1855, Glasscock sold 10 acres of the tract to Mary Williams for $50. [3] Glasscock also sold 17 3/4 acres from the Stubblefield Survey to Thomas Proctor Hughes on Feb. 16, 1857, for $221.87. Later that year, Mary Williams, who was by now married to W. E. Bouchelle, and her husband sold their 10 acres described above to Thomas Proctor Hughes, the deed drawn March 2, 1857. The 10 acres brought $125. [4] Thos. P. Hughes (as he wrote his name) established what is known as the Hughes Addition in Georgetown out of these 27 3/4 acres which he purchased from Glasscock and the Bouchelles. On Dec. 31, 1894, Hughes sold to his daughter, Mrs. C. C. Cody, one-half of one block plus another block out of the Hughes Addition, for $2200. The full block, known in City of Georgetown records as Block C, Hughes Addition, is the block being considered in this narrative. [5]

On Aug. 16, 1895, Dr. and Mrs. C. C. Cody sold 1/2 of Block C, Hushes Addition, for $700 to Henry W. Harrell. Until this point, there was no known habitation on this lot. Since the Harrell family is known to have built a home there and lived in it for a number of years, it is believed that they built soon after Purchasing the land, either late 1895 or in 1896. [6] H. W. Harrell and his wife, Arabella Harrell, sold their home to W. F. Magee on July 19, 1907, for S5,000. [7] W. F. Magee and his wife, Tomye Magee sold the home, on the north half of block C, Hughes Addition. Georgetown, to Samuel Vaughan Stone on August 4, 1937. Judge and Mrs. Stone (Berenice) are the owners at the present time (1975). [8]

The Henry W. Harrell home is believed to have been built in the fall of 1895, or early in 1896. As early as 1891, Harrell Belford (successors to George Irvine), were advertising their; lumber, contracting and building business. Harrell apparently withdrew from the partnership of the firm, but continued to work for Belford Lumber Company, Georgetown, for a number of years. In the adjacent block, two two-story homes were built in 1895 by Belford Lumber Company, for' W. Y. Penn and J. A. McDougle. The same floor plan, with minor changes, was used for these two homes, and materials, workmanship, and detailing are remarkably similar. The Harrell home is adjacent to the Penn and McDougle residences, and also follows the same floor plan, has similar materials, styling and workmanship. It has not been proved; but all available evidence seems to indicate that the Harrell home was built at approximately the same time as the others, for which the date 1895 is documented. The home was built in a newly-formed Addition in town, where many of the substantial merchants and professional men of the community erected homes from about 1895 to 1900. Georgetown, the county seat, was growing, as was Southwestern University, located within a few blocks, so the need for new housing is evident. The home was built by Henry W.' Harrell, himself in the lumber business, with Belford Lumber Company acting as architect -contractor H. W. Harrell was listed as a director of the First National Sank, Georgetown, in 1897. Mrs. Harrell (Arabella) was interested in club work, and a friend of the family, Mrs. Bertie McDaniel of Georgetown, says that Alice Harrell, the daughter, often said that her mother "built the home for the history clubs." The large reception and dining areas are well arranged for large groups, or for social affairs. [10] The second owner of this residence, W. F. Magee, and his wife, Tomye, lived there for thirty years. Mrs. Magee was an artist; Mr. Magee ran "The Good Store," which sold general merchandise, on the north side of the Courthouse Square. Judge Samuel Vaughan Stone and his wife, Bernice, have made this their home since 1937 and still reside there. stone was Co. Tax Collector 1922-35; County Judge 1935-70; 30y Scout Master, years; Capt. U. S. Army 1925; chairman board of Trustees & board of rewards, first Methodist Church; active in American Legion, Chamber Commerce, Phi Delta Theta; elected Georgetown Citizen of the Year 19' and 1952; Silver Beaver Scout, 1932; first chairmen. Williamson County survey Committee. Stone has taught school in Georgetown, is active in club and church activities and in civic affair. [11]

The original structure, for which Belford Lumber Company of Georgetown furnished the plans and contracted the building, was two stories with six fireplaces, a large -L-shaped porch across the front (east) and north, a back porch; large hallways upstairs and down, one bath, and seven large rooms. The outbuildings were the cistern house, which still stands and is used for storage, and a maid's room. [12]

Material was acquired by C. S. Belford, who operated the lumber company, most of it shipped into Georgetown by rail. Cypress and oak were used for beams, siding and most of the other portions of the house. An unusual fan-shaped glass is used in the upper half of the front door: All doors and windows are trimmed in Victorian-style. The six fireplaces are finished with tile and wocd, and no two are alike. The rooms are quite large, high ceilinged, with long windows, typical of the period. [13]

The home was built in a newly developed part of town near homes of two of Harrell's friends, who built similar residences at the same time. All three homes are still standing and in good condition.

Apparently no alterations were made to the house prior to 1937, when Judge and Stone purchased it. Since then, they have moved the maid's room to the north side of the lot and used it as a garage. The cistern house still stands, and is joined to the back porch, part of which was converted into a small break­fast room. The kitchen has been renovated to make it functional, but has kept the flavor of the home. A portion of the upstairs hall was made into a small bedroom, used as a nursery or a maid's room. Small portions of the upstairs rooms were changed into an additional bath and closet space, and a powder room has been added downstairs in what once was hall space. The original stairway: was changed only in one respect: a turn was added to provide more privacy to the powder room and kitchen area, but the original materials were used in the reconstructed stair. The cistern was cistern filled in and boarded over to make a floor in the small cistern house. Judge and Mrs. Stone added a small deck upstairs over the back porch, leading from the guest bedroom. [14]

A unique feature of the home at the present time (1975) is a mural which Judge and Mrs. Stone had painted on the walls of their dining room depicting places in Georgetown which have endeared themselves to the Stone family: The Courthouse, the Harrell Home and two adjacent homes to the north (the three built about the same time by the same builder, and for three good friends), the First Methodist Church (also nearby), and two scenes on the Southwestern University campus, the Old Train Building, and the Ladies Annex. The mural was painted by artist Carl O. Bergquist, formerly of the Southwestern University Art Department, and now a professor in the School of Architecture, University .of Texas at Austin. The Stones also own four pieces of furniture which once belonged to a longtime resident of George­town, John Sparks, who became governor of Nevada in 1902, serving until 1908. [15]

The condition of the residence is excellent, and it is kept in good repair at all times by the owners, the Stones. The home has been occupied by only three families in its 80 years. The first two occupants, Henry W. Harrell and W. F. Magee, were substantial merchants in Georgetown and active in the life of the community. The present occupant served as County Judge for thirty-five years and was extremely active in civic and church affairs of his community. Wives of all three men have also been involved in the social, religious and civic activities of the town and through the years the home has been the scene of numerous meetings and gatherings. [16]

Because of its role in the life of the community, its distinctive durability and workmanship as a Victorian house, and because it is located in a district of five homes and one church-- all from the same period and in equally good condition--the owner of the Harrell Home wish to commemorate the structure with a marker It is felt that by marking this home, along with others in the immediate area already marked or being marked, that the integrity of this distinctive district may be better recognized and preserved.


Recent Improvements
Replaced all gas lines (2002)

Installed Water Softener

New Roof (2017) on House, Garage and Gazebo

New Gingerbread on Roof (2017)

Converted Carport to 2-Car Garage (2012)

Added Custom, Hand-Cut Picket Fence (1997) Modeled After Authentic 1890s Picket

Built Two Ornate Gates in the Picket Fence (around 2005)

Enclosed the Remainder of the Yard with a Privacy Fence (1997)

Added 2 HVAC Systems (a 5 ton and a 6 ton) and a 4-Zone Thermostat System

Replaced All Sub-Floor Ductwork with Metal Tubing for Squirrel Protection

Recently Rebuilt Large Pocket Doors

Converted Screen Porch to a Sun/Room with Sliding Glass & Screen Doors

Added Metal Roof over the Sun Room

Rebuilt All Steps on the South and West Sides of the House

House Painted with MooreGuard Premium Paint (2007)/Paint was Touched-Up in 2017

Refinished All Wood Floors Downstairs (Oak) and All but 2 Wood Floors (Long-Leaf Pine) Upstairs. Replaced Section of Kitchen Floor, (2016)

Refinished Wood on Master Stairway (2016)

Recently Rebuild French Doors and Roof over Side Porch

New Wood Steps for Back Stairway

Installed New Piers Under the Tiled Den Floor (2015)

New Paneling and Wood Floors in the Office (2016)

Installed Full Sprinkler System (2010)(18-zone?)

Renovated Third Floor into a Guest Suite (Bedroom, Den, Full-Bath and Walk-In Closet) (1997)

Added Reverse Osmosis Drinking System

Added Garbage Disposal

Replaced Dishwasher (2016)

Added Antique Chandelier to 2nd Floor Landing

Added Antique Lighting to Side Foyer

New Wrap Around Porch Fans (2017)

New Wrap Around Porch Lights (2015)

Den Renovation with Paint and All New Ceiling Fixtures (2016)

Significant Landscaping (2017)

Siding Repairs to Garage Exterior (2017)

Paneling of Front Foyer Coat Closet Interior (2016)

Installed Chimney Caps

Added Fabric Wallcovering to the Side Foyer (2012)

Installed 2 60-Gallon Hot Water Heaters (2017)

20-Years Worth of Upgrades and Cosmetic Improvements (Including all Bedrooms and Bathrooms)

Comments & Feedback