For Sale By Owner
1888 Victorian: Queen Anne
Historic Brooke Mansion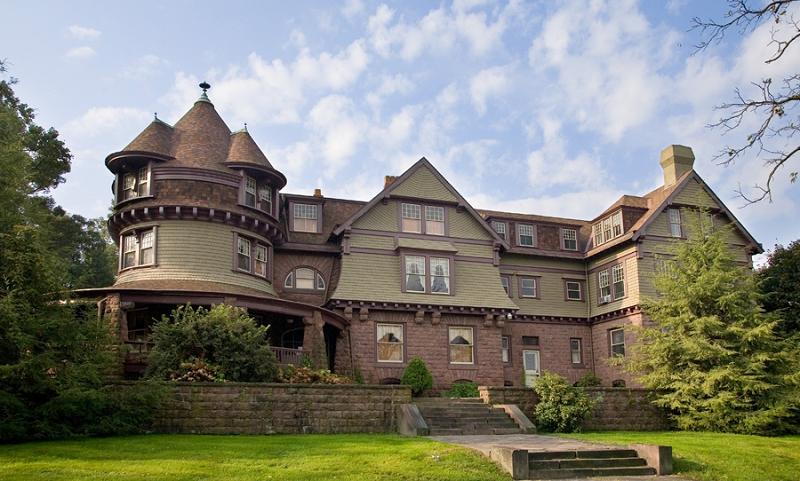 Details of Historic Brooke Mansion
Uses: Bed & Breakfast, Offices, Restaurant, Private Residence: Per Zoning Variance 1985 & 1987 see municipal variance Disclosures
-included in the newly published The Queen Anne House: America's Victorian Vernacular by Radek Kurzaj and Janet Foster. Mr. Kurzaj is a noted architectural photographer and Janet Foster is Assistant Director of the Historic Preservation Program at Columbia University's Graduate School of Architecture, Planning, and Preservation. She selected Brooke Mansion as 1 of 21 noted American homes in the Queen Anne tradition.
-chosen by the editors of Architectural Digest for inclusion in its prestigious Editors
-described as the most stunning of Furness's 1880's private homes in Frank Furness: The Complete Works, by George E. Thomas, Michael J. Lewis, and Jeffrey A. Cohen
Frank Furness is noted as one of the top ten architects by the American Institute of Architects. He initiated a lasting lineage of architects in America. His student, Louis Sullivan, pioneered the skyscraper, and Sullivan in turn, nurtured Frank Lloyd Wright. Furness's legacy also influenced Louis I. Kahn, Philadelphia's greatest 20th-century architect.
Scroll down for more information
| | |
| --- | --- |
| Bedrooms | 16 |
| Full Baths | 8 |
| Half Baths | 2 |
| Heated Sq. Ft. | 13,677 |
| Stories | 3 |
| Acres | 3.0 |
Features.
Dining room
Foyer
Kitchen
Living room
Unfinished Basement
Built-in Bookcases
Fireplaces
Grand staircase
Original wood windows
Wood floors
City sewer
City water supply
Claw-foot Tub(s)
Pocket Doors
Stained Glass Windows
Turret
Wrap Around Porch
Like This Listing?
Seller Contact Information
Marci or Peter Xenias, OWNERS
610-582-9775
Or 1-717-399-3888
Or 717-399-7995
Peter Or Marci Xenias
Phone: 717-399-3888
Mobile: 717-399-7995
Fax: 717-394-8769
Brookemansion@comcast.net
Tell 'em you saw it on OldHouses.com!
The Architect: Frank Furness
The mansion reflects Furness' unique artistic vision. His aesthetic philosophies were shaped by his remarkable life and family. As a boy, Frank's father's friendships with the great intellectuals, artists, and philosophers of the day provided a rich environment that nurtured Frank's unconventional approach to architecture.

Frank learned the value of non-conformity and strong personal principles from his father. The elder Furness was a prominent Unitarian minister who stood squarely against anti-Jewish and anti-Catholic movements and especially against slavery- no mean feat in Philadelphia at the time.

Although Frank grew up witnessing the constant threat of violence because of his father's progressive stance, the intellectual atmosphere of his home and the influence of his father and his contemporaries paved the way for his pioneering architectural career. Ralph Waldo Emerson himself sparked Frank's passion for architecture with a gift that featured pictures of buildings. As a leader of the Transcendental Movement, Emerson's staunch belief in the insurmountable importance of the individual is evident in Frank's later work.

Frank's character and work were also influenced by his wartime experiences, for Frank's burgeoning architectural career was interrupted by the Civil War. Many well-connected young men of the day chose to ride out the war in Europe, but young Frank served just as bravely as one would expect from a Furness. By the end of the war, he had performed at least two recorded acts of heroism, earning him the distinction of being the only architect to ever be awarded the Congressional Medal of Honor.

Once the war was over, Furness returned to his architectural career with a stronger personal character and a greater willingness to take risks. He experimented in his early collaborations with daring, innovative color and design. He pioneered the concept of Corporate Imagery in his designs of some eighty train stations across Pennsylvania for the Reading Railroad. His work for the railroad also prompted him to research and develop time and cost saving strategies in the construction of his buildings.
The Brooke Family
Then, in 1888, Frank was commissioned by industrialist Edward Brooke II of Birdsboro, PA to design Brooke Mansion. This project was the perfect meeting of minds, for both Furness and Brooke possessed the same individualistic, bold character and principles. The Brooke family had emigrated to the United States from England in 1698 and eventually their firm, the Birdsboro Steel Corporation, became the heart and soul of Birdsboro.

Their home combines the romance of Victorian architecture with the innovative design characteristic of the American Renaissance. Edward's awe-inspiring gift to his beloved wife Ann also exemplifies the ambitious commercial energy of Pennsylvania in the late 1800's.
The Mansion
A first-time visitor to Brooke is immediately impressed by the meticulously crafted stained-glass front doors. The lines and forms of the mahogany exterior façade complement this elegant craftsmanship. Inside the mansion, the wood of choice is a warm quarter sawn oak, save for the large rosewood library that played a central part in the lives of the Brookes.

The library contains one of the ten distinctive fireplaces found throughout the mansion. Although all the fireplaces were carved in Europe before being sent over, Furness used his own nature-inspired designs in their decoration. The mansion's intricately carved main staircase is just as lovingly constructed, with elegant organic forms.

This extensive use of natural forms is typical Furness, for he continuously strove to unite his architectural forms with nature. As one moves through Brooke Mansion and out onto the spacious wrap-around porch, the interior, exterior and surrounding grounds flow harmoniously together.


Comments & Feedback