For Sale
c. 1910 Dutch Colonial
IMPRESSIVE... No Matter What The Season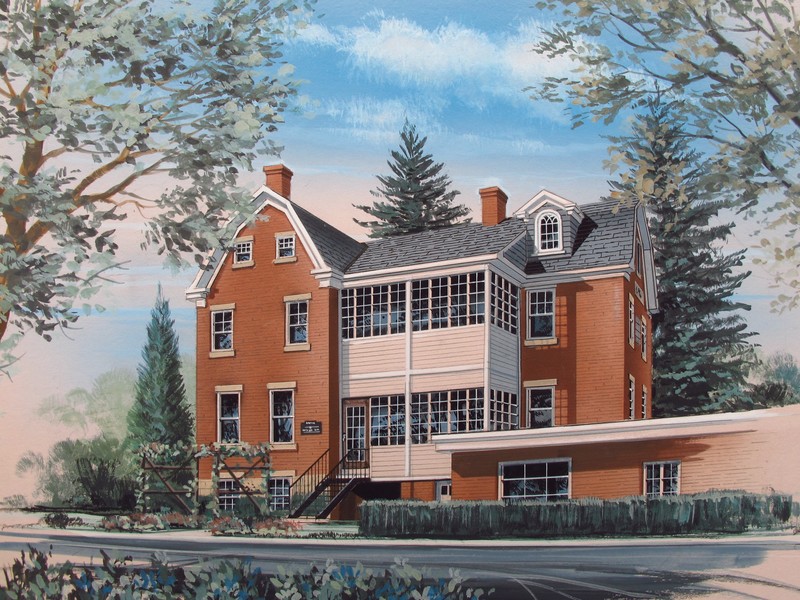 Watercolor Drawing of Classic 1910 Dutch Colonial Home/Commercial Property
Scroll down for more information
Features.
Commercial Property
Ample Parking 18-20
Enclosed Porches Rebuilt
Highway Frontage-Walmart
New Slate Roof
Over 4,300 Sq. Feet
Updated Heating/Cooling
Like This Listing?
Agent Contact Information
EXIT PREFERRED REALTY

Tim Smith
Phone: 717 263-3555 Ext.114
Mobile: 717 816-4116
Fax: 717 264-8540
timsmith@exitpreferredrealty.com
Tell 'em you saw it on OldHouses.com!
Repurpose This Great 1910 Classic
Located along the historic Lincoln Highway in Chambersburg stands an old Dutch Colonial. Built in 1910 and having been abandoned for nearly 20 years it had fallen into a dreary state of disrepair and time was running out... 22 years ago, just 3 days before it's scheduled demolition the Pearson family was able to purchase the property. After acquiring the property the family set about to restore rather than re-muddle this classic structure. The southern portion of the old slate roof was completely replaced with "New" slate and the old wooden porches were rebuilt with a concrete composite siding, which requires far less painting due to lower expansion and contraction. All enclosed porch windows have been replaced and new efficient natural gas furnaces and central air has been installed. The space was used for a commercial retail store, so more restoration work awaits anyone who would like to turn this into a home/business situation.
Great Business Location
The location is very conducive to commercial business. The property is directly in front of the Chambersburg Walmart and has highway frontage along route 30. Hobby Lobby, Planet Fitness, several banks, food businesses and other retailers are in the direct vicinity.

Peak sales at this site reached $700,000 and it is our firm conviction that an individual with a good business plan, a great product and a "can-do attitude" could bring life back to this great classic structure once again.
History
The home was once occupied by a local veterinarian who used the flat roof, ground level addition for his practice for many years. He was married with 5 children and a monkey. The monkey liked to run up the bannister to the third floor where it would unscrew a lightbulb and drop it through the open stairway. Upon crashing to the floor the monkey would erupt into laughter.

The stairs still creak... We were told by one daughter of the former owner that the stairs had always creaked and no one could ever get away with sneaking down them in the middle of the night.
The Reality of an Old House
Anyone whose ever lived in an older home knows well that there is always work to be done. As the owner of this great old house we've done a lot to bring the place back to life. We found the place covered with vines, the roof about to cave in, overgrown bushes, peeling paint, old shag carpet, old electrical, dead birds, termites in the basement and ancient furnace, etc.

We've done the foundational work of restoration, but there is still plenty to accomplish. I never felt that general maintenance was all that difficult, but the major work of restoration was a great challenge.

After changing direction in life from an active retail business we find it a challenge to run a separate business and keep this place going as well. We're hoping for some folks from a younger generation to discover and energetically continue what we've started 22 years ago.
Comments & Feedback