From The Archives
1886 Victorian Italianate
Victorian Italianate with so much potential!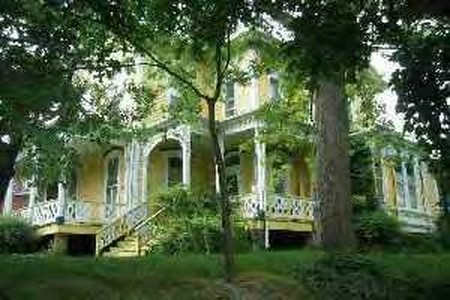 Street View
This is a COOL HOUSE we fell in love with back in 2005 with the intention of living here and fixing it up. We were here less than a year when cost of tuition and commute forced a move closer to work, then the market crashed and we were never able to sell. It is currently occupied with awesome tenants, but this would be a great owner occupied so you could qualify for the assistance the community offers for exterior work. You could live in one side and rent out the other, or open the house back up and make it into a B & B. Each unit has over 2200 square feet, and upstairs and downstairs, 2 gorgeous grand staircases, 3-4 bedrooms per side (not all have closets), and loads of charm. We were told by the Realtor when we bought it that it was built in 1855, but we have not been able to confirm that. In fact, someone from the historical society says no that's probably not true. Oldest history we could find from a page in a book at the library lists an early occupant as Bank Cashier named Weston Arnold in 1886. Would love to find out if he built it or purchased it from someone else.
It's a great location near the hospital and downtown, easy access to the interstate. Photos are from when we lived there. Working on getting updated ones. Our listing price is our payoff and estimated closing costs. We are willing to consider lower offers if we can get an unsecured loan to pay off the rest. (But only for someone who is looking to fix up the house and do good things with it. Not an 'investor' who is going to gut all the pretty stuff and slumlord it out.) This home is registered with the Central Illinois Landmark Foundation! See the news coverage below for the work day this awesome community held for the house!
Scroll down for more information
No Contact Information.
This listing is archived and is not for sale.
Contact information is not available for archived listings.
News Coverage!
The Community held a work day at the house and it was on the news! (Copy and paste address to view) What an awesome community!

https://www.youtube.com/watch?v=kJPv4BQsEcE&feature=youtu.be

More video coverage of the event:

https://www.youtube.com/watch?v=niTbc9ZR0XU


Archived in November, 2016
Comments & Feedback