For Sale By Owner
'$375,000 Price Negotiable
1848 Greek Revival
Historic Cedar Lane Plantation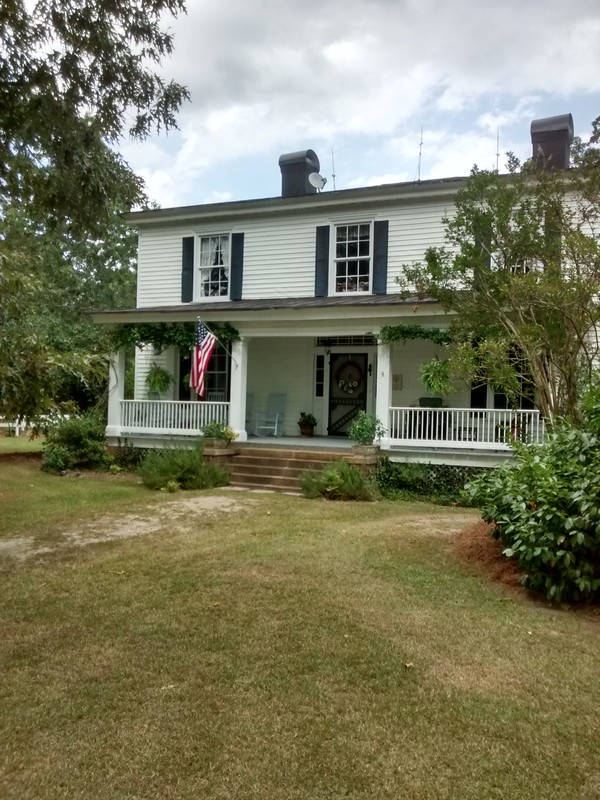 Cedar Lane Plantation is listed on the National Register of Historic Places.Home sits on 10+ acres in Edgecombe County North Carolina. Very secluded with several out buildings, including a horse barn w/3 stalls & tack room.
Scroll down for more information
Like This Listing?
Seller Contact Information
Shown by appointment only
Gary or Jackie Skelton
Phone: (252) 823-3278
geskelton@embarqmail.com
Tell 'em you saw it on OldHouses.com!
Cedar Lane Plantation
Cedar Lane Plantation—NC 33 North, Leggett, NC
Cedar Lane is one of Edgecombe County's most significant Greek Revival plantation homes and is individually listed in the National Register of Historic Places. It has a long and impressive history, fine architectural features and superior original outbuildings. It also sits on a beautiful 10+ acre tract of land suitable for a variety of residential accessory uses, such as gardening, raising horses or other farm animals, organic farming, and the like.
This antebellum home was likely built around 1848 by Joshua Lawrence for his daughter, Phoebe Ann, after her marriage to James D. Savage. Savage had bought this property from Mr. Lawrence in 1847. The house is situated far back from the main road down a long lane, lined with many old cedar trees. The two-story home is three bays in width, with large Greek Revival windows, a low hip, metal roof and the original front porch which stretches across the entire west façade. This porch is unique in that it still has its large square wooden columns and nice, simple balustrade and railings. The large, two panel front door has its original Victorian-period screen door, and is surrounded by handsome sidelights and a multi-shaped, rectangular glass transom panel.
Historically, Cedar Lane has been the home of some of Edgecombe County's most prominent families and individuals. Both the Savage and Lawrence families were some of the first people to settle in Edgecombe, and became prominent as large plantation owners prior to the Civil War. After the Civil War, around 1880, the Lawrence-Savage plantation was bought by Almon Fountain, who married Sarah Louisa Eagles, the daughter of an equally prominent local family. All of their surviving children were well educated for the period and served as civic and political leaders. Their son, Richard Tillman Fountain was a local attorney who became a judge, State legislator, Speaker of the House of Representatives and ultimately Lt. Governor of North Carolina under Gov. O. Max Gardner from 1929 until 1933. Another son, Benjamin, served on the Board of Governors of the University of North Carolina and was also a member of the General Assembly from 1943-1955. Arthur Fountain, who built the Classical Revival mansion just up NC 33 on the north side of Leggett, was a State Highway Commissioner. Cedar Lane was subsequently inherited by two of Almon and Sarah's daughters, Margaret (who married Thomas Franklin Savage) and then Lula (who married William L. Goodwyn.)
Cedar Lane is a large, but extremely comfortable house that has changed very little architecturally since its construction, with the exception of the addition of necessary modern features, including handsome tiled bathrooms (one with tile work dating from the 1930's), updates to internal wiring, plumbing, heating and air systems and the significant renovation of the original kitchen building into a beautiful, modern and functional kitchen. In general the house has two large front parlors, a formal dining room, a modern eat-in kitchen and utility room, 2 ½ bathrooms total, a wide center hall both upstairs and downstairs, a master bedroom/bathroom suite downstairs and 4 bedrooms and one full bath upstairs. The house contains around 4,080 square feet of total living space.
Upon entering the front door, one can see the entire length of the house down a long, wide hallway with its simple, but handsome staircase. In the main body of the house are two large rooms on either side of this commodious hall, including both ladies and gentlemen's parlors on the front of the structure. Mantels in these rooms are of a handsome post and lintel design with nice, double inset panels within the post supports. All rooms in the house are quite large and have 10 foot ceilings with either large, handsome plaster cornices or picture moldings. Floors throughout the house are made of the most beautiful, wide and ancient heart pine boards one could ever find. A simple round ceiling medallion is found in the entry hall.
Behind the two front parlors is the original dining room with its handsome built-in china cupboard adjacent to the fireplace. Directly across the hall from the dining room is a master bedroom suite with its handsome, colored tile bathroom. Mantels in the house are typical Greek Revival post and lintel in design, with modern closets that have been carefully and appropriately added adjacent to the fireplaces, especially in the bedrooms, to provide good storage space.
Behind the main two-story section of the house is an enclosed sunroom containing a new half bath. Beyond this sunroom connector is the old kitchen building that has been modernized with custom cabinets, stainless steel appliances, stone countertops and a wonderful eat-in dining area in front of the old kitchen fireplace. A unique feature of this great kitchen is the use of an early porcelain double basin, double drainboard sink which adds great functionality to the space and gives the area a nice period appearance. A utility room is just off the kitchen. Two doorways from the sunroom lead directly to the rear yard and to the side yard deck and garden area.
Upstairs are four, large bedrooms and a modern bathroom at the rear of the upstairs hallway. All of the rooms have good closet space and large Greek Revival windows for excellent lighting. The upstairs hallway is quite spacious with its handsome balustrade enclosing the staircase opening.
The property contains slightly over 10 acres with 375 + feet of road frontage. In front of the old farmstead portion of the parcel containing the main house itself are two large open pastures on either side of the cedar tree-lined entry lane. Around the house itself are mature oak and pine trees and remnants of earlier landscaping, including heirloom plantings and shrubbery.

Comments & Feedback